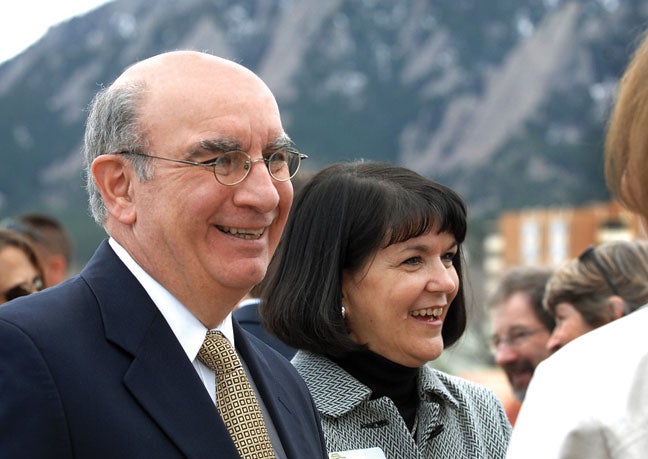 Phil DiStefano, who has worn many hats at CU-Boulder during 35 years, has made it to the top: Boulder campus chancellor.
DiStefano, 62, former provost, stepped up as interim chancellor on April 1 when previous chancellor Bud Peterson left after less than three years to become president of the Georgia Institute of Technology. DiStefano became the sole finalist after a committee representing internal and external campus stakeholders conducted an internal search.
On April 20 President Bruce Benson (Geol'64, HonDocSci'04) announced DiStefano as sole candidate for the chancellor position. DiStefano spent two weeks meeting with key campus and alumni constituencies. On May 5 Benson appointed him permanent chancellor.
"Phil DiStefano has the integrity, experience and skills to lead our Boulder campus at this important time in its history," Benson says. "He is a team player and a proven leader who is respected on campus and in the community, and I have a great deal of confidence in his abilities and trust in him personally."
Benson says conducting an internal search allowed CU to tap into campus talent and provide continuity as CU-Boulder addresses key issues such as budget challenges, a national re-accreditation process and implementation of the campus Flagship 2030 strategic plan.
DiStefano has served CU-Boulder in several capacities during his many years on campus: professor of education, associate dean, dean, vice chancellor, provost and twice as interim chancellor.
A first-generation college graduate, DiStefano earned a bachelor's degree from Ohio State and a master's degree in English education from West Virginia University. He holds a doctorate in humanities education from Ohio State University, where he served as a teaching and research associate.