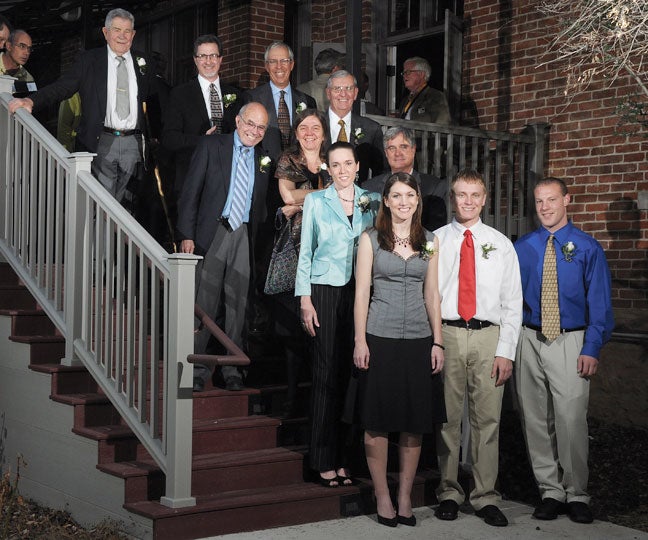 Scores of CU community members gathered in Old Main on May 6 for the 79th Annual Alumni Awards Ceremony. Every year the Alumni Association gives out some of the university's most prestigious awards.
The George Norlin Award honors outstanding alumni for their careers and service to society. Recipients of the 2009 Norlin Award are Dale "Pete" Atkins (A&S'43, MD'45, MS'53), a Denver physician and former CU baseball standout who served 12 years on the CU Board of Regents; Richard "Dick" Engebretson (MBA'72) of Wayzata, Minn., and Rancho Mirage, Calif., who had a successful career in marketing and trade shows and has been a tireless advocate for the business school; and George Sissel (ElecEngr'58) of Westminster, Colo., former CEO of Ball Corporation who helped steer the Engineering Advisory Council and CU Foundation board during a critical time in the university's recent history.
Three professors received the Robert L. Stearns Award in recognition of extraordinary contributions to the university: Douglas Burger, associate professor and associate chair of the English department whose outstanding efforts in the classroom have had a profound impact on students; Patty Limerick, history professor, faculty director of the Center of the American West and nationally recognized expert on the American West; and Owen "Brian" Toon, professor and chair of atmospheric and oceanic sciences whose research on the dangers of nuclear war during the 1980s had widespread public policy ramifications, including helping to end the arms race during the Cold War.
The Leanne Skupa-Lee Award honoring the most effective volunteer for CU's National Alumni Assistance Program went to David M. Oliver (EnvDes'79) of Pleasantville, N.Y., recognizing his faithful volunteerism for more than 20 years.
Five students received paid internships through the Public Interest Internship Experience — Nicholas Alvey, Jeremy Edwards, Kathryn McCune, Kelly McGrew and Kelsey Wills.