Undergraduate Research Opportunities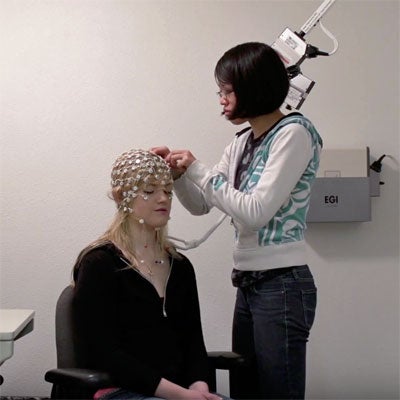 Faculty in Cognitive Psychology and Cognitive Neuroscience typically offer opportunities for CU undergraduates to get more involved in research. This page provides general information about possible positions, but you should contact individual faculty members about position availability and requirements.
Benefits
Acquisition of research skills (especially beneficial for students considering graduate school)
Greater understanding of Cognitive Psychology and Cognitive Neuroscience research
Opportunity to work more closely with a faculty member
How to Find a Position in Cognitive Psychology and Cognitive Neuroscience
Students typically join on-going projects in a faculty member's lab, so you should explore the research being conducted by the faculty to help you identify possible labs.
To learn about the research of the Cognitive Psychology and Cognitive Neuroscience Faculty
You'll typically be asked about your current GPA, relevant classwork (e.g., general psychology, intro to cognitive psychology, neuroscience, statistics and methods, etc.), and any prior research experience when you inquire about a research position. However, freshmen and sophomores with less experience and coursework are also eligible if they otherwise have a strong record. 
Some labs have specific requirements for participation. Check faculty and lab web pages for minimum requirements.
Possible Types of Research Positions
Labs vary in the types of positions they offer, but possibilities include
Volunteer:
May involve basic tasks like data coding and entry
With more experience, may involve more advanced tasks like data collection, design and preparation of experiments.
Independent Study:
Provides academic credit for research work
Requirements vary by lab, depending on the needs of the faculty and the type of credit you wish to receive (lower vs. upper-division credit)
Activities vary depending on amount of experience, but may include data coding and entry, data collection, and design and preparation of experiments.
In addition, you will need to write a final paper at the end of the semester.
Paid Research Assistant:
Elibility for work-study funding is desirable, but non-work-study paid positions may also be available.
Honors Thesis:
Reserved for students who meet the requirements for the honors program, have previously demonstrated their research skills, and want to conduct more independent research.
Positions are typically limited, although faculty vary in the requirements they set. Many faculty only accept honors students who have been working with them for a semester or longer. Keep in mind that having an honors student is a significant commitment for faculty in terms of their time and resources. So, although you will be working more independently on your project, you will still typically be doing research that is closely related to the faculty's work.
The benefits of this type of position are that you will gain additional research skills, you will graduate with honors (assuming you complete the requirements), and you will typically have more interaction with the faculty. In some cases, students even get to see their work published in scientific journals!
If you are interested in completing an honors thesis, it is not too soon to begin working in a lab when you are a freshman or sophomore. Do not wait until you are a senior!