Photos courtesy of Haddie Hill.
By Lauren Irwin (Jour'22)
Haddie Hill (Jour'22) has led an unconventional life. Her parents made living internationally a priority, and she visited over 20 countries before turning 21. Her experiences stoked a passion for storytelling that wouldn't let go.
Now the recent graduate is striking out as a young entrepreneur, drawing from her unique experiences and journalism studies to hone her ideas for a new media tool.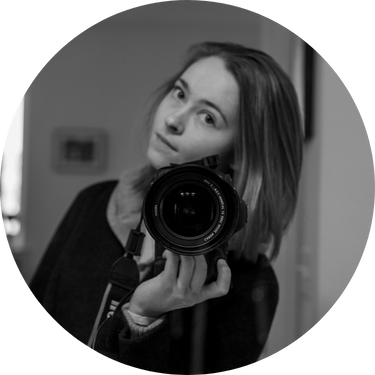 While traveling, Hill was exposed to some of the biggest challenges facing media industries around the world, like political polarization, public distrust and sparse multicultural representation. As a graduate student, she's exploring ways to tackle those issues as she develops her media tool, Bupple. It's a big undertaking: Hill is trying to address systemic challenges in international communications using innovative technologies. But she feels a responsibility to try.
"It is up to us, the designers of the digital age, to create platforms, systems and technology that raise people up and connect them to each other instead of segregating online communities and platforms based on faulty financial models," Hill wrote in her thesis.
At 16, Hill spent a year studying abroad in Australia and solo-touring the Outback. For a few weeks, she lived with an Aboriginal community off the coast of Cairns in Queensland. There, she noticed that poor cellphone reception and internet access limited the community's access to news, digital information and online platforms. Dominant storytelling tools, like photography and websites, did not fit their oral history traditions, she realized.
At 20, Hill studied abroad in London and took an internship in Parliament during Brexit. She saw how competition among large media conglomerates led to clickbait, lower-quality reporting and insufficient context for the public—making political polarization worse.
While living in different cultures, Hill experienced the power of storytelling to unite and divide communities. She saw how communication platforms and technologies helped news spread widely for some people and limited access for others.
"How do we empower people to tell stories in their own way, and in a way that they're comfortable and empowered by?" Hill wondered.
That question sparked the idea for Bupple. 
Hill has spent years honing her idea for the media tool, first through her honors thesis at CU Boulder and now as a master's student in New York University's Integrated Design and Media program. 
"To attempt something this large as an undergraduate is really commendable," said Associate Professor Pat Ferrucci, Hill's thesis advisor. "There's no doubt she's going to make a really important and positive contribution to journalism or whatever area she finds herself in."
At NYU, Hill is assembling a team of developers to make Bupple a reality. Although in its early stages, Bupple aims to share information using traditional and new technologies—text, photos, audio and video, plus proprietary algorithms and augmented reality. The multimedia-based model will be more accessible across cultures and inclusive of visual, motor or other physical and mental disabilities, Hill said. 
Its emphasis on long-form journalism will give audiences more context and information to understand issues—a response to the polarization linked to fast news and clickbait. One day, she hopes Bupple will be used through devices, like Amazon's Alexa, to counteract information access issues in rural and remote areas.
"If you don't have trust in that communication system, which is the backbone of society, you don't really have much," Hill said. "It's not just those institutions we don't trust, it's other people, and that's really detrimental to the stability of society."