Juan Espinosa's Journalism Legacy
By Anthony Albidrez
Photos by Juan Espinosa (Jour'74)
The clock hit 3 a.m., and only three men remained in the game. For the men stationed at Da Nang Air Base in Vietnam, payday meant a long, late night of poker. During this particular game in 1968, Juan Espinosa (Jour'74) would cash out with more than just the winning pot.
"There were only about three of us still playing, and the pot was huge because we had all the money of everybody that already dropped out," Espinosa said, recalling his time in the U.S. Air Force.
During the final hand, Espinosa threw in $20.
"One of the guys that was still in, he says, 'Look, I don't have 20 bucks, but I got this camera. I'll throw it in the pot if you'll accept,'" Espinosa recalled. "He threw the camera in the pot. And I won the pot, and I won the camera."
For Espinosa, that camera, a 35 mm Canon rangefinder, and that early morning in 1968 marked the beginning of his photographic career. Now 74 years old, he has kept his finger on the shutter button ever since.
Espinosa's decadeslong, illustrious career in Colorado journalism has been marked by leadership and deep roots in his community. At CU Boulder in the early 1970s, he launched El Diario de la Gente as a member of the campus group United Mexican American Students (UMAS), which aims to build cultural awareness of the Chicano community in Boulder.
He later moved to Pueblo, Colorado, where he co-founded the alternative community newspaper La Cucaracha and embarked on a 22-year journey in community journalism at The Pueblo Chieftain.
Through his journalism and photography, Espinosa has captured Colorado history, documenting Chicano movements and activism. His extensive photographic archive has been featured in museum exhibits, documentaries and news stories.
"I have always worked for my community, my whole journalistic career," Espinosa said. "If I saw something wrong, I reported it just the way I saw it."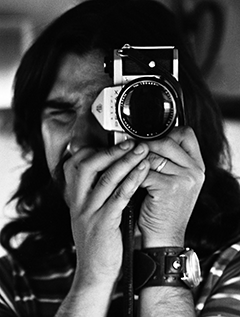 Juan Espinosa captures a self-portrait with his
Pentax 35 mm camera, circa 1971–74
"I have always worked for my community, my whole journalistic career. If I saw something wrong, I reported it just the way I saw it.
-Juan Espinosa
A new voice in Boulder 
After his time in the Air Force, Espinosa completed his associate degree at Mesa College in Grand Junction then enrolled as a journalism student at CU Boulder in 1971.
His arrival followed the swell of Chicano activism in the Southwest in the 1960s, known as the Chicano Movement or El Movimiento. At CU, Espinosa quickly deepened his involvement with UMAS and the growing Chicano community on campus.
By 1972, he and other students launched El Diario de la Gente, an independent Chicano newspaper on campus, to give the community its own platform. The newspaper covered a wide range of topics, such as boycotts, protests and tensions with CU Boulder administration.
"We felt we were being misrepresented in the mass media, that they didn't know who Mexicans were. They didn't know who Chicanos were," Espinosa said. "And we decided that we needed our own publication to tell our own story, in our own words, using our own vocabulary, and that was really one of the goals that I set for myself in starting El Diario."
That same year, he photographed students as they protested the firing of Ricardo Falcón, assistant director of UMAS Educational Opportunity Program (EOP), who was later killed in a racially motivated confrontation in New Mexico.
In 1973, Espinosa was covering a campaign stop by Chicano and workers rights leader César Chávez in Denver when Chávez recruited Espinosa to work for the United Farm Workers' (UFW) newspaper, El Malcriado. There Espinosa photographed many pivotal moments during UFW's struggle for farmworkers' labor rights in California.
Back in Boulder, Espinosa covered increasing tensions between Chicano students and the CU Boulder administration over financial aid. When administrators lost financial aid files and issued late stipend checks, students enrolled in the EOP couldn't pay tuition
or living expenses.
Many believed the issues were purposeful—meant to deter Chicano students from enrolling in the program.
"Most of us had never even aspired to go to the University of Colorado. And all of a sudden, the doors were open, and we could attend," said Espinosa, who both covered the events and joined student protests. "We think it was an attempt on the part of the university to keep UMAS from growing so fast." 
In May 1974, UMAS students occupied Temporary Building 1 (TB-1), a small, administrative building at 1715 Pleasant St., to urge negotiations and remedy the ongoing issues.
While TB-1 was occupied, loud blasts could be heard all over Boulder. Within two days, two cars were bombed, killing six activists and students who had been involved in the protests. The six people killed would come to be known as Los Seis de Boulder: Una Jaakola, Reyes Martinez,  Neva Romero, Francisco Dougherty, Heriberto Teran and Florencio Granado.
"It wasn't until cars started blowing up and students started dying from these car bombings that the university agreed to negotiate," Espinosa said.
After 18 days of occupation, the administration agreed to negotiate with the students. All demands were met, and the occupation of TB-1 ended.
Espinosa documented these events within the pages of El Diario. Based on Espinosa's photography, CU Boulder alumna Jasmine Baetz in 2019 created images of each of the Los Seis de Boulder victims on a sculpture that is located in front of the Albert and Vera Ramirez Temporary Building 1 next to the CU Boulder Recreation Center. In September 2020, the University Libraries announced that it had acquired the sculpture as part of its Rare and Distinctive Collections.
"If students had power, student publications also had political power. My goal was to make a publication that had power," Espinosa said. "What we really were trying to do was tell our own story. We were not represented well in the media."
'The truth speaks for itself'
When Espinosa moved to Pueblo after graduation, he found that Chicano communities also lacked media representation in the city.
Espinosa co-founded La Cucaracha in 1976 with his wife, Deborah Espinosa, and David Martinez, longtime friend and colleague. After his time at La Cucaracha, he began reporting at The Pueblo Chieftain in 1988. As a Chicano journalist, Espinosa reported for both publications on issues and challenges facing the Chicano community.
"The things that we wanted to accomplish with our own newspapers, I was trying to accomplish at a daily newspaper," he said. "I was trying to represent Chicanos and people of color accurately and let them speak for themselves as much as possible."
Espinosa began at The Chieftain on the police beat but would later cover the education and government beats. He wrote a popular column titled "Juan's World" for 17 years.
"He'd been publishing La Cucaracha, which was a wonderful protest newspaper. And it just really attacked wrongdoing in the district attorney's office and other places, and his journalism was just exemplary," said Steve Henson, who reported alongside Espinosa before becoming managing editor of The Pueblo Chieftain.
Henson's predecessor recruited Espinosa, saying the young journalist's perspective was needed in their newsroom.
"We were all thrilled because we all admired Juan and what he had done," Henson recalled. "For a young guy like Juan, who was in his 20s, to be taking on this kind of power was pretty courageous."
La Cucaracha published weekly until 1983, and special editions have been published thereafter. After his 22-year journey at The Pueblo Chieftain, Espinosa retired in 2009. While working at the daily newspaper, Espinosa also taught social studies from 1993 to 2007 at Centennial High School in Pueblo.
"I was trying to represent Chicanos and people of color accurately and let them speak for themselves as much as possible.
-Juan Espinosa
Espinosa's journalism tells us the story of life, culture and society in Pueblo, which he calls home to this day.
"The truth speaks for itself, and Juan's always been about that," Henson said.
Honoring a journalism legacy
In May 2022, CU regents awarded Espinosa an honorary doctorate for outstanding achievement in the field of journalism.
"We both look back in awe that we saw so much history. We have witnessed change. We changed ourselves, grew tremendously with all of the experiences," said his wife, Deborah Espinosa, who was the director of El Pueblo History Museum for 25 years and worked for History Colorado. "And now we're considered elders often sought for our opinions, direction, research. We assist a lot of students who are wanting to know about that era—although it's not an era to us, it's our life."
Martinez was one of many friends, colleagues and supporters to nominate Espinosa for the honorary doctorate.
"It's a very notable punctuation as well as recognition for the good work that he has created and produced during his own journalistic career. He is also a role model for future journalists," Martinez said. "Probably the most important component of his work is the education that was brought to his audiences."
For Espinosa, his career in journalism was like having a front seat to history. Camera in hand, he captured significant moments in Boulder and around Colorado.
"Every assignment, every story is important," Espinosa said. "And together, they create a knowledge about a community. I believe that my stories have helped define who we are as Chicanos in this country and in the part of the world that I've interacted with. And I think that's really important."