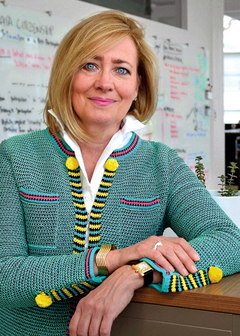 I'm delighted to share this digital issue of CMCI Now. I couldn't help but laugh as I read grad student Zoë Rom's tales of flagging down bush planes and taking notes with frozen pens while reporting on a 1,000-mile sled dog race for an Alaskan radio station. We also have first-person accounts of Olympic coverage from Cheryl Preheim (Comm'95) and Alex Stone (Jour'03), plus many other stories on what our ambitious students, faculty and alumni are up to.
And I wanted to give a few shoutouts: Don Heider (PhDComm'97)—dean of the School of Communication, Loyola University Chicago—was recently named the 2017 Scripps Howard Foundation Administrator of the Year and three of our students recently placed in the Hearst Journalism Awards—Charlotte Bowditch (10th in Enterprise Reporting) and Jackson Barnett and Lucy Haggard (tie for 12th and tie for 14th, respectively, in Multimedia).
On a more serious note, Polly McLean, our associate professor of Media Studies, has spent years digging through historical archives across the country to uncover the story of Lucile Berkeley Buchanan (Ger1918), who was CU's first black female graduate 100 years ago, but was not allowed to walk at graduation.
McLean says, "A desire to understand the university's reasoning for dismissing her achievement motivated me to dig deeper, and thus began my search for Lucile." She will be posthumously recognized at the May graduation, McLean's book Remembering Lucile: A Virginia Family's Rise from Slavery and a Legacy Forged a Mile High will be released in May, and McLean is giving a talk on Lucile's story April 4. If you're in the area, I hope you can join us for this important event.
Warm regards,
Lori Bergen
Founding Dean
College of Media, Communication and Information
View the spring 2018 issue  Send your class note  Support CMCI