Photos by Glenn Asakawa (Jour'86).
Last April, a golden shipping container appeared on the brick plaza by Folsom Stadium. For a month, students, professors and community members streamed in—some for 15 minutes, others for a class—to face a life-size, technology-enabled screen and talk with strangers on the other side of the world.
More than 500 people from CU Boulder and the community struck up conversations with people in similar high-tech shipping containers—or portals—in Erbil, Iraq; Mexico City, Mexico; Kigali, Rwanda; the Gaza Strip; Herat, Afghanistan; and other locations.
Nicoli Bowley (Comm'17), participated in a two-hour talk with three college students in Kigali who formed MyStory, a social organization that uses stories to inspire, connect and enable young people. "Although we come from such different backgrounds, they're 20-year-olds just like us. It was kind of like talking to friends across the world," says Bowley, who initially wondered what they would talk about for two hours. "It flew by."
BoulderTalks, a CMCI center, sponsored the project as a way to promote dialogue and connect with communities around the world.
Sara Cooley, a journalism major, talked with three students in a refugee camp in Erbil as part of Assistant Professor Leah Sprain's communication class, Discourse, Culture and Identities. She appreciated a fuller glimpse of the lives of people in the refugee camps and found it to be "broader than a lot of what is covered in the news."
Managed by Shared Studios, the portal installations were created in 2014 by artist Amar Bakshi, whose work focuses on how to integrate technology into environments across distance.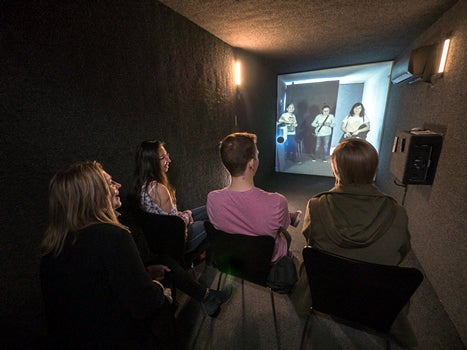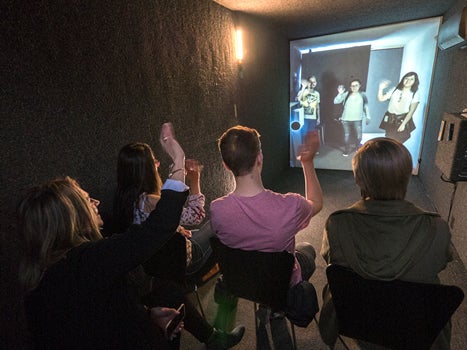 Dean Lori Bergen and a group of students participate in a conversation with community members in Mexico City.