Educational Technology, Creativity and Design: Examining the Convergence
April 9, 3:00–5:30 p.m., Norlin Library, British and Irish Studies Room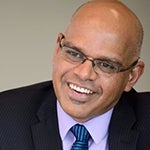 Dr. Punya Mishra is Associate Dean of Scholarship & Innovation and Professor in the Division of Educational Leadership & Innovation in the Mary Lou Fulton Teachers College at Arizona State University. He is nationally and internationally recognized for his work on the theoretical, cognitive and social aspects related to the design and use of educational technologies. More recently his research has focused on the role of creativity, aesthetics and design in the educational process. 
During his presentation, Dr. Mishra will speak to two decades of experience around educational technology, creativity, innovation and design. He will provide examples from his research, as well as practical experience directing an award-winning master's program; his work with STEM educators in Chicago; and his current work at ASU around educational innovation with school districts and communities.  
 
Dr. Mishra is a gifted, creative and engaging public speaker, as well as an accomplished visual artist and poet. You can find out more about him by going to http://punyamishra.com/.
Agenda
Pre-symposium
10:00–11:30 a.m., Technology Learning Center (TLC) 215
Ask Me Anything with Dr. Mishra 
Symposium 
3:00–5:30 p.m., Norlin Library, British and Irish Studies Room
Light refreshments will be served
  3:00–4:00 p.m.
  Teaching with Technology Expo​
RAPs Faculty Learning Community: Nicole Jobin, Sewell RAP, and Elizabeth Anderman, Farrand RAP
SLHS Faculty Learning Community: Jen Lewon, Speech Language and Hearing Sciences
Large Lecture Discovery Project: Courtney Fell and Tarah Dykeman, ATDT
Universal Design for Learning: Joy Adams, ASSETT, and Brad Grabham, ATDT
ASSETT Student Fellows: Austin Chau, Jacie Moriyama, Clara Smith, and Cassidy Younggreen
Visualizing Instructional Practice: James Foster and Shane Schwikert, ASSETT
Canvas Learning Management System: ATAP Learning Technology Consultants
  4:00–5:30 p.m.
  Excellence in Teaching with Technology Award Presentation
  Keynote and discussion