Meet our Undergraduate Student Intern Cohort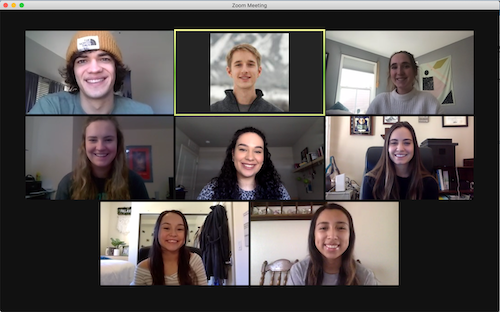 At the outset of the ASSETT Innovation Incubator, each of the four interdisciplinary teams of faculty and staff were charged with purposefully including undergraduate students in their projects starting in year two of this three-year pilot. The time to bring students into the incubator fold arrived at the beginning of academic year 2020-21 in the midst of the disruptive change brought by the pandemic to our campus. The incubator community persisted, hiring our first three undergraduate student interns in fall 2020 to support the CAMPP (Collective to Advance Multimodal Participatory Publishing) team with its mission to promote faculty and student curation, cultivation, co-creation, and publication of knowledge. Throughout the fall and into this spring semester, Rob Balsewich (ART/PSYC),  Alexis Harris (ENGL/CTD), and Elise Rosado (THDN), all of whom are undergraduate students pursuing degrees in the college of Arts & Sciences are bringing specialized skills and experience to the team including in Adobe Creative Cloud, coding (HTML/CSS), graphic design, web design, peer mentoring, and volunteerism. 
 
This spring 5 more A&S undergrad interns joined the innovation incubator sharing their experience and talent across two additional incubator teams. Ellie Lindrooth (DS/STAT), Mika Mildenberger (ENGL), and Tyler Fansler (CS) round out the Inclusive Data Science team where they are partnering with faculty to co-design curriculum for the team's new Interdisciplinary Data Science for All course which will appear on the course roster in fall 2021. Ellie, Mika, and Tyler all share a passion for the focus of the course which filters data science through a humanist lens. In addition to putting their fingerprints on the course curriculum, this intern team will also design ways to reach out to students to pique their interest about this "onramp" course into interdisciplinary data science.
 
Two more student interns, Evamaria Kent (IPHY) and Sarah-Jane Alvarado (IPHY), are the newest members of the Metacognition & Wellbeing team. This spring, Eva and Sarah-Jane are leading production on short videos featuring student testimonials covering topics ranging from effective study skills to managing test anxiety. The videos will be embedded into a series of metacognition and wellbeing Canvas modules that students can access themselves or that can be integrated into any Canvas course for use with students by an instructor.
 
It is exciting to grow the ASSETT Innovation Incubator with the addition of this fabulous cohort of undergraduate student interns who bring not only their unique skills and talents but also the invaluable student perspective to our community and to team projects.