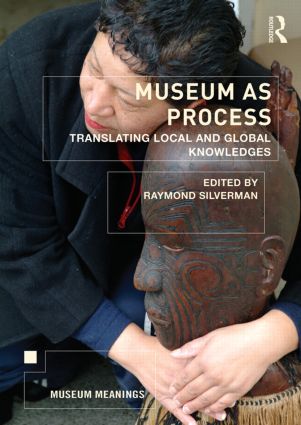 About the author: Jennifer A. Shannon is the author of the chapter: "Projectishare.com:sharing out past, collecting for our future" and is an Associate Professor in the Department of Anthropology and a Curator of Cultural Anthropology at the CU Museum of Natural History at the University of Colorado Boulder.
Book description: The museum has become a vital strategic space for negotiating ownership of and access to knowledges produced in local settings. Museum as Process presents community-engaged "culture work" of a group of scholars whose collaborative projects consider the social spaces between the museum and community and offer new ways of addressing the challenges of bridging the local and the global.
Museum as Process explores a variety of strategies for engaging source communities in the process of translation and the collaborative mediation of cultural knowledges. Scholars from around the world reflect upon their work with specific communities in different parts of the world – Australia, Canada, Ghana, Great Britain, New Zealand, Papua New Guinea, Philippines, South Africa, Taiwan and the United States. Each global case study provides significant insights into what happens to knowledge as it moves back and forth between source communities and global sites, especially the museum. Museum as Process is an important contribution to understanding the relationships between museums and source communities and the flow of cultural knowledge.
Publication date: Aug. 26, 2014
Publisher: Routledge
Amazon.com: Read more on Amazon.com