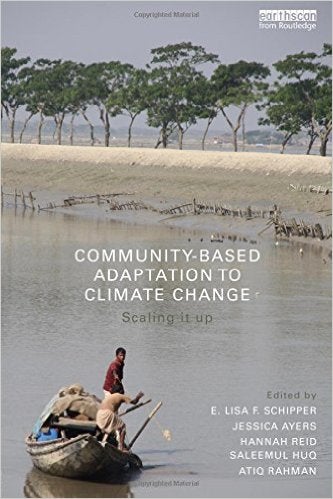 About the author: Maxwell T. Boykoff is the co-author of the chapter: "Serious fun: scaling up community-based adaptation through experiential learning and is an associate professor in the Center for Science and Technology Policy, which is part of the Cooperative Institute for Research in Environmental Sciences (CIRES) at the University of Colorado Boulder.
Book description: As climate change adaptation rises up the international policy agenda, matched by increasing funds and frameworks for action, there are mounting questions over how to ensure the needs of vulnerable people on the ground are met. Community-based adaptation (CBA) is one growing proposal that argues for tailored support at the local level to enable vulnerable people to identify and implement appropriate community-based responses to climate change themselves.
Community Based Adaptation to Climate Change: Scaling it up explores the challenges for meeting the scale of the adaptation challenge through CBA. It asks the fundamental questions: How can we draw replicable lessons to move from place-based projects towards more programmatic adaptation planning? How does CBA fit with larger scale adaptation policy and programmes? How are CBA interventions situated within the institutions that enable or undermine adaptive capacity?
Combining the research and experience of prominent adaptation and development theorists and practitioners, this book presents cutting edge knowledge that moves the debate on CBA forward towards effective, appropriate, and 'scaled-up' adaptive action.
Publication date: Jan. 17, /2014
Publisher: Routledge
Amazon.com: Read more on Amazon.com