Advertising, Public Relations and Media Design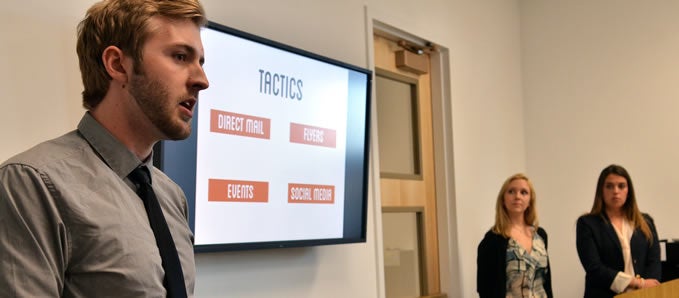 Every aspect of CMCI's program in Advertising, Public Relations and Media Design is rooted in creative problem-solving, be it finding consumer insights and developing strategy, generating ideas and producing ads for various platforms, or designing social media campaigns. 
Advertising students will choose from two specialities: Those interested in strategy will conduct research and analyze data, identify target audiences and ways to engage them, and develop media plans to reach them. Those interested in creating the advertising itself will learn how to come up with ideas and execute them using the latest technology.
CMCI's public relations program will prepare students for one of the nation's fastest-growing career fields. PR graduates will work closely with news organizations, build relationships with media and other key publics, create content for traditional and new media platforms including social media, and learn how to manage PR campaigns. 
With CMCI's outstanding training in media design, students will learn to design and produce content on various screens and platforms including the Web, videogames, smartphones, tablets and virtual environments.
Graduates of CU's current advertising program, which will expand under CMCI, work at leading advertising agencies, research firms and other corporations specializing in strategic communication. Our students consistently take top awards in the prestigious international "Young Ones" competition sponsored by the One Club in New York City.
CMCI's strategic communication degree will produce graduates who are creative, tech-savvy, thoughtful, forward thinking, and ready for exciting careers in a rapidly changing media world.
At the graduate level, APRD will offer a master's degree in strategic communication design and a PhD in strategic communication. The MA program will begin in fall 2017 and applications will be accepted beginning in July 2016. The PhD program will begin in fall 2016 and applications will be accepted beginning in July 2015. Learn more »
Be experienced.
Intensive skills workshops
Student organizations
National networking trips.
Action-packed internships
      - Young and Rubicam, Sydney, Australia; account intern
      - Cactus, Denver; art director intern
      - Victors & Spoils, Boulder; studio intern
      - ​Crispin, Porter + Bogusky, Boulder; social media intern
Be prepared.
Graduates will choose from exciting careers in areas such as writing, art direction, account planning, research, brand management, creative technology, production, design, media planning, social media strategy and public relations at agencies worldwide. They may also work in the nonprofit or government sectors, or become entrepreneurs.
Be inspired.
Our outstanding alumni include:     
Kelly Keaveney Graziadei: director of global marketing solutions, Facebook
Jason Hoff: freelance creative director, Google Creative Lab; coined "What Happens in Vegas, Stays in Vegas"
Jessica Clifton-Czarny: senior vice president and digital group director, Edelman