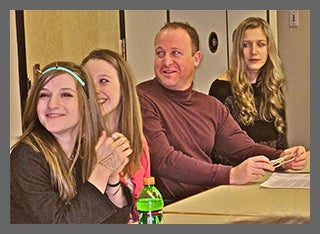 On Monday, December 10, 2013, United States Congressman Jared Polis (D-CO) met with University of Colorado Boulder students, who are currently enrolled in a practicum courses INVS/EDUC 2919: Renewing Democracy in Communities and Schools and INVS4999: Teaching Social Justice. In addition to reviewing legislative priorities for the 113th Congress, Congressman Polis identified ways in which CU Boulder undergraduates might join elected officials to reform K-12 education, better address salient public issues, and renew democracy. Approximately 50 students participated in the discussion.
Reflecting on the discussion, University of Colorado Boulder senior Bridget Doherty shared, "I was excited to have the opportunity to meet Congressman Polis and learn more about his career. I also think that it is important for students, serving as Public Achievement coaches, to have the opportunity to directly collaborate with public officials, which is the premise behind Public Achievement."
Congressman Polis has historically supported CU Boulder's Public Achievement program. In April 2010, he joined Public Achievement coaches and their high school counter-parts during the City of Lafayette's Cesar Chavez "Seeds of Justice" March and Rally. The event was coordinated by students as a means to both pay tribute to civil rights leader Cesar Chavez and raise awareness about the need for comprehensive immigration reform. Congressman Polis has also participated in the City of Lafayette's annual Martin Luther King, Jr. March for Peace and Celebration, which is coordinated by Public Achievements and members of the Lafayette Youth Advisory Committee. Staff members have also met with Public Achievement students on numerous occasions to discuss K-12 education funding, immigration, and other public issues.