The Learning Assistant (LA) Model was developed at University of Colorado Boulder in 2001 as a collaboration between Drs. Valerie Otero (School of Education) and Dick McCray (Department of Astrophysics and Planetary Sciences), and has since spread to dozens of departments and hundreds of institutions around the world. See the LA Alliance section, below, to learn more.
Learning Assistants (LAs) are undergraduate students who are legitimate members of the instructional team and trained in pedagogical content and inclusive pedagogies. LAs' identities both as students and instructors break down traditional power structures in classes leading to more students having a voice in their own academic affairs.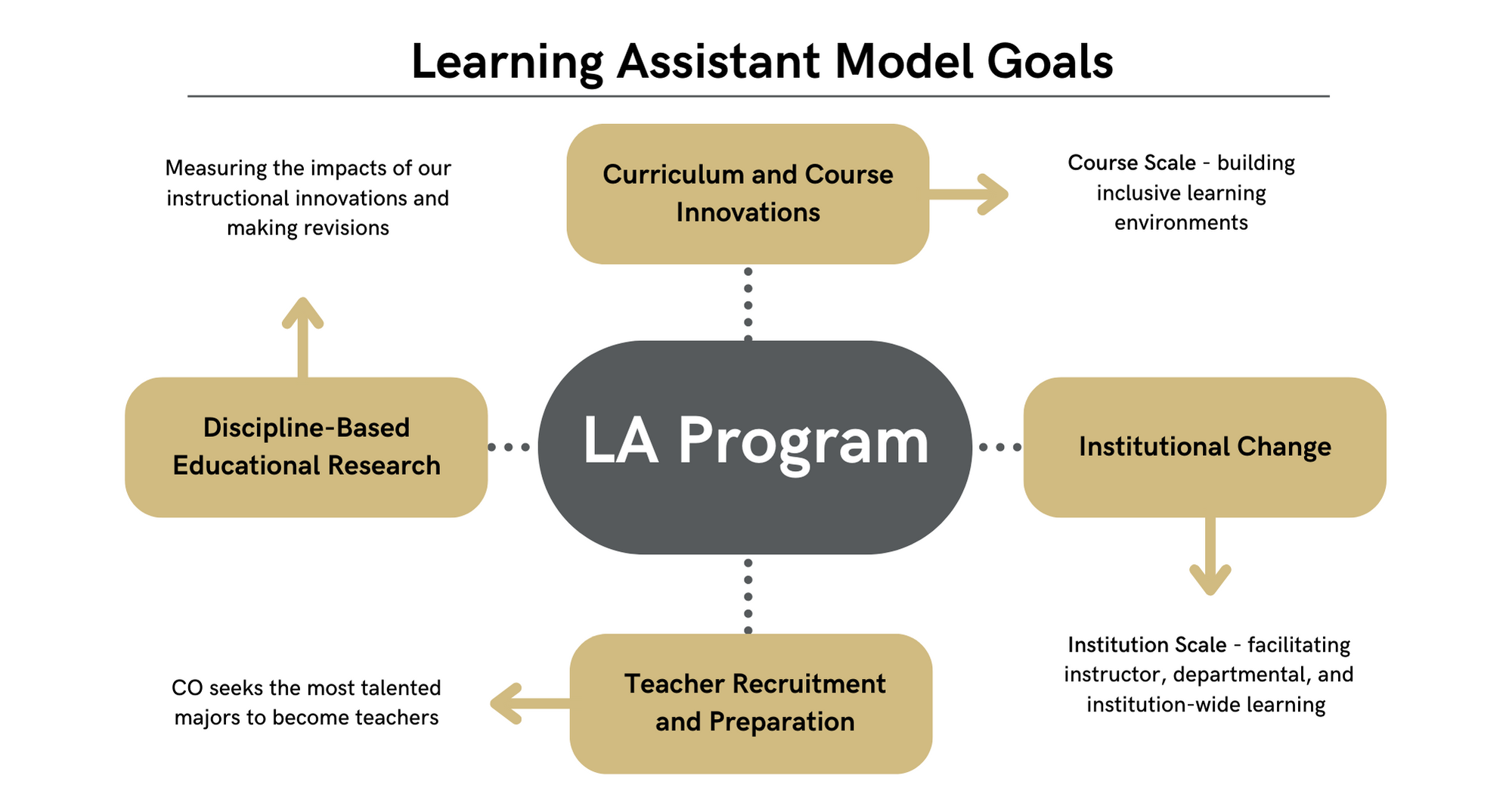 LA-Student Interactions ("LA Practice"): Learning Assistants (LAs) interact with students by facilitating discussions about conceptual problems within the discipline. LAs focus mainly on eliciting student thinking and helping each student participate in developing a shared understanding. At CU Boulder, LAs work in required course contexts like lectures, laboratories, recitations/group sessions, and supplemental course contexts like office hours, help rooms, and group sessions, and in all modalities: in-person, remote, asynchronous, and hybrid. 

Weekly preparation meetings: LAs meet with course instructors and other members of the instructional team at least once per week to prepare for future classes, develop deeper content understanding, and exchange information about how students are progressing in the course. 

Training in inclusive pedagogies: First semester LAs co-enroll in the LA Pedagogy Course (EDUC 4610) "Becoming a Learning Assistant" to support their development. In this course, LAs learn evidence-based, student-centered, inclusive teaching and learning practices, applying ideas both to supporting the learning of other students and improving their own learning. Returning LAs, those with more than one first semester of experience, continue to engage in pedagogical growth in a supportive teaching and learning community in Returning LA Professional Development Meetings. 
See Student Resources: What to expect or Faculty Resources: What to expect to learn more.
Watch this video recorded by LA Program co-Founder and current Faculty Director, Dr. Valerie Otero, to learn more about how the LA Model integrates with campus initiatives focused on diversity, equity, and inclusion.
Students in LA-supported courses walk away with improved content learning, decreased failure rates, and increased belonging, compared to courses not supported by LAs (Pollock, 2009; Van Dusen & Nissen, 2019; Alzen, Langdon, & Otero, 2018; Barrasso and Spillios, 2021). These impacts are thought to be due to the ability of LAs to facilitate academic and social integration between and among their students, serving as agents of access and inclusion by breaking down power structures helping students be successful (Talbot, Hartley, Marzetta, & Wee, 2015). This is due to improving students' sense of belonging (Clements, Friedman, Watkins, Johnson, Meir, Watkins, Brockman, & Brame, 2022). LAs themselves walk away with increased content knowledge, a stronger disciplinary identity, are more likely to graduate within 6 years than a matched sample of peers, and for those who go on to secondary teaching careers, are more likely to consistently utilize learner-centered teaching practices than other new teachers (Otero, 2015; Alzen, Langdon, Otero, 2018). 
 
Works cited:
Alzen, J. L., Langdon, L. S., & Otero, V. K. (2018). A logistic regression investigation of the relationship between the Learning Assistant model and failure rates in introductory STEM courses. Int. J. STEM Educ. 5(1), 56.
Barasso, A. P. and Spilios, K. E. (2021). A Scoping Review of Literature Assessing the Impact of the Learning Assistant Model. Int. J. STEM Educ. 8(12).
Clements, T. P., Friedman, K. L., Johnson, H. J., Meier, C. J., Watkins, J., Brockman, A. J., and Brame, C. J. (2022). "It made me feel like a bigger part of the STEM community": Incorporation of Learning Assistants Enhances Students' Sense of Belonging in a Large Introductory Biology Course. CBE-LSE. 21(2), 1:13.
Nissen, J., Donatello, R. & Van Dusen, B. (2019). Missing data and bias in physics education research: A case for using multiple imputation. Phys. Rev. Phys. Educ. Res. 15: 020108.
Otero, V. K. (2015). Nationally scaled model for leveraging course transformation with physics teacher preparation. Recruiting, and Educating Future Physics Teachers: Case Studies, and Effective Practices. 107-127.
Pollock, S. J. (2009); Longitudinal study of student conceptual understanding in electricity and magnetism. Phys. Rev. Phys. Educ. Res. 5(2), 020110. 
Talbot, R. M., Hartley, L. M., Marzetta, K., & Wee, B. S. (2015). Transforming undergraduate science education with learning assistants: Student satisfaction in large-enrollment courses. J. Coll. Sci. Teach. 44(5), 24-30.
The Learning Assistant Alliance (LAA) is a community of more than 3,000 people representing more than 500 institutions from LA Programs around the world who share resources, information, and experiences to support the implementation and assessment of the LA Model. In order to support those objectives, the LA Alliance facilitates community via a Slack workspace, curates LA model resources via the LAA website, and offers a suite of software (LA Campus and LASSO) to more efficiently manage and assess LA programs, most of it available to LAA members free of charge. LASSO is a learning assessment tool available to all faculty members and LA Campus is a web-based LA Program management package that is available on a subscription basis. No matter your role on campus, create an account today at LearningAssistantAlliance.org
Use of LA Campus software has improved the diversity of CU Boulder's LA applicant pool, reducing bias that may occur during recruitment and hiring. Our LA Program hires around 500 LAs in over 100 courses per year through an open application process utilizing LA Campus software. Faculty apply to work with LAs by stating their ideas for course innovation that include ways for promoting meaningful student-student and LA-student interaction. Students apply to be LAs through the system, and faculty use the system to request interviews and to make offers to LAs. The software is at the helm of the community of faculty, students, and program personnel that care so much about education and student and faculty success. All faculty and students can apply, increasing diversity and equity on campus. 
LA Campus software was originally developed at CU Boulder to help manage our growing LA Program, and then further developed and tested through a collaborative National Science Foundation grant that included CU Boulder, Chicago State University, Boston University, George Mason University, and California State University Chico. Learn more about LA Campus and how it can help your institution, here.