The first part of our report, Alignment with Indigenous Peoples' Rights Creates Socially Responsible Investment Opportunities, looked at measuring and minimizing social risk when planning and implementing large-scale infrastructure projects, and explored the financial landscape and investment opportunities in Indian Country. Part two outlines how human rights due diligence is vital for socially responsible investments and business practices, and shows how investors and companies can incorporate the rights of Indigenous Peoples into their projects in order to improve returns and create positive social impact. Some comments have been edited for clarity.
It is basic business practice that conducting due diligence is critically important to understand the real risks of an investment.
"When we talk about the human rights of Indigenous Peoples in the context of due diligence, we are focused on the right to free, prior and informed consent," said Carla F. Fredericks, Director of First Peoples Worldwide. "That is the core right that's implicated for Indigenous Peoples with respect to development, and it is a right that emanates from our right to self-determination."
Paloma Muñoz Quick, Director of the Investor Alliance for Human Rights (IAHR), drew from her program's tremendous work on human rights due diligence and global investment strategy to outline best practices for businesses and investors.
The IAHR, which is an Initiative of the Interfaith Center on Corporate Responsibility, utilizes the UN Guiding Principles on Business and Human Rights (Guiding Principles). Endorsed by the UN Human Rights Council in 2011, Muñoz Quick called it "the authoritative international global standard when it comes to responsible business conduct that protects human rights."
There are three pillars to the Guiding Principles' Protect, Respect and Remedy Framework. First, the state's duty to protect against human rights abuses by third parties, including businesses. Second, the corporate responsibility to respect human rights. And third, ensuring the victims of human rights abuses have access to effective remedy. The second pillar, focused on corporate responsibility, includes a due diligence component to ensure companies identify, assess and address any human rights risks and impacts associated with their operations.
Muñoz Quick noted that under the UN Declaration on the Rights of Indigenous Peoples and other international norms, Indigenous Peoples have additional rights including giving or withholding their free, prior and informed consent as to any projects that affect them. She added that companies need to have a human rights policy in place, especially in industries known to impact Indigenous Peoples (e.g. oil, gas, or mining).
Speaking to human right due diligence, Muñoz Quick outlined four basic steps to embed respect for Indigenous Peoples' rights within a company:
1) Evaluate the real and potential risks that Indigenous Peoples face from the business's activities through meaningful consultation with those peoples affected.
2) Obtain free, prior and informed consent (FPIC) from communities, specifically in the case of resettlement or whenever exploitation of indigenous land or resources could affect culture and heritage. (If FPIC is not being achieved, consider either adjusting the project or stopping altogether, Quick noted.)
3) Assess policies and processes across the business, integrate findings into practice, and provide relevant staff training, for example on local Indigenous cultures, customs and identity. Track the effectiveness of these efforts by developing quantitative and qualitative indicators that reflect the local context and Indigenous Peoples' perspectives.
4) Communicate with transparency on their efforts to engage various stakeholders, and especially their efforts to reach out to affected communities by producing information that is available and accessible in local languages.
In terms of FPIC, Fredericks pointed to First Peoples' Free, Prior and Informed Consent Due Diligence Questionnaire (DDQ), which provides a guide for investors who wish to implement FPIC and proactively consider the rights of Indigenous Peoples as to specific projects.
The DDQ leads investors through important steps regarding identifying the directly and indirectly affected Indigenous Peoples, and for mapping out impacts as to their lands, territories and resources. Importantly, the DDQ provides guidance to investors who seek to implement a due diligence process that flows from human rights and Indigenous Peoples' rights as enumerated in the United Nations Declaration on the Rights of Indigenous Peoples. Thus, the DDQ allows investors to go beyond the minimum standards set by most countries' domestic laws and align corporate internal processes with international best practices to respect and protect the rights of Indigenous Peoples.
 
Look to International Law rather than Domestic Law to Ensure the Protection of Indigenous Peoples' Rights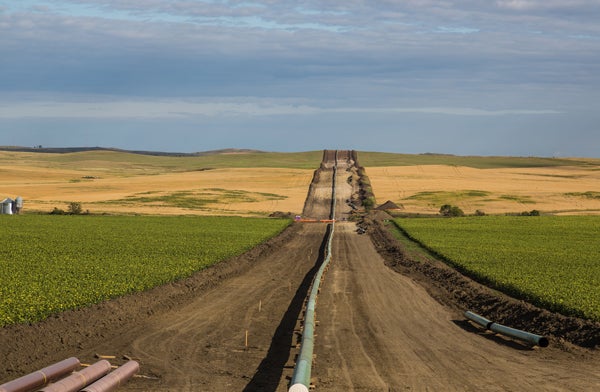 An audience member asked if panelists had seen pushback from the private sector when engaging on Indigenous rights in shareholder advocacy.  She used the example of government-to-government interface in Alaska, where there have been consultations on federal regulations for Indigenous Peoples. "But if you look at the transcripts on these consultations, the issues are always sort of swept away and the concerns aren't really taken into consideration," she said.
Fredericks noted that this is exactly what happened at Standing Rock with the Dakota Access Pipeline (DAPL). Companies need many permits in order to build a pipeline, and there are many governmental entities involved in the permitting process. However, at no point during the process did either the government or the company properly consider the rights of the Standing Rock Sioux Tribe as to DAPL. The failure to consider the social and environmental risks during the regulatory risk assessment process resulted in considerable financial losses to project developers and investors. Thus, reliance on domestic regimes is misplaced because most national laws do not properly assess the social, cultural, environmental and economic impacts of development to Indigenous Peoples.
"Because of how federal law treats Indian Nations and how over centuries federal law has disregarded its treaties with Indian people, we ended up in a very [unfortunate] and not that uncommon situation where federal law failed to adequately protect Indigenous Peoples rights," Fredericks said. "Time and again, we see that compliance with federal law is not sufficient to meet international human rights norms."
First Peoples Sr. Fellow Dave Archambault II, who was the Chairman of the Standing Rock Sioux Tribe when DAPL was being constructed said, "The reality is the federal government themselves ignored that the Tribe even exists." He believes investors and financial institutions backing these projects often assume companies are engaging and working with the Tribes just because the companies are able to secure the permits.
"There is nowhere in this process where the Tribe is engaged, and that's an indicator that something needs to change. We have to try to work at policy reform," said Archambault. "Anytime there is an infrastructure project, not only should all the federal agencies that are involved have a say, and not only should the state have a say, but the Indigenous Peoples that are impacted should also have a say."

Muñoz Quick noted that businesses and investors must integrate human rights criteria, including Indigenous Rights criteria throughout the project lifecycle. "Through the human rights perspective, due diligence looks first and foremost at risk to people, and then realizing that risk to people when it's highest is also risk to business–material risk," she said.
Rebecca Adamson, Indigenous economist and founder of First Peoples Worldwide, noted that in recent years social risk has been one of the top issues discussed at the World Economic Forum in Davos.
"DAPL put social cost front and center in a way nothing else in the 21st century has done," she said. "Corporations are aware that social risk is costing them a lot of money. So, Davos for two years consecutively has listed social risk as one of the top two issues of their group, which is basically all of the CEOs in the world."
"Calling for a better system for collecting verifiable, accurate and timely data about social risk and building on First Peoples Worldwide's DAPL case study is imperative," Adams said. "These are real solid issues being changed through [organizations like First Peoples]. But also, investors are really starting to push for more human rights assessment, so there's a lot of change underway."
Companies & Governments Serious About the Human Rights of Indigenous Peoples Must Look to the UN Declaration of the Rights of Indigenous Peoples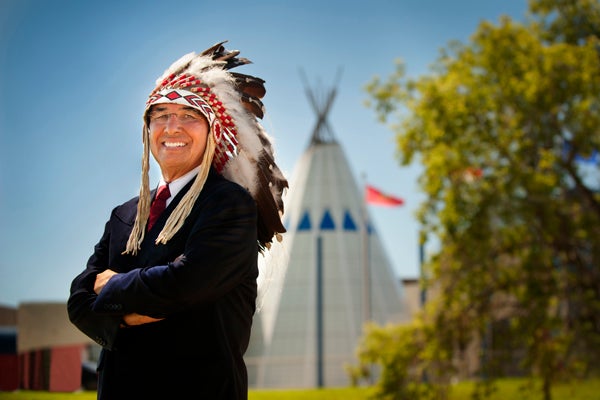 Fredericks introduced special guest Grand Chief Wilton "Willie" Littlechild, who she noted has been instrumental to memorializing Indigenous Peoples' rights to free, prior and informed consent throughout society and politics in Canada and around the world.
Chief Littlechild, who has extensive experience in law, finance and Indigenous rights, was one of the people invited to participate in Canada's Truth and Reconciliation Commission that took place from 2007 to 2015.
The Commission was formed to address abuses suffered by Indigenous Peoples during the dark history of Canada's Residential School System (similar to the Native American boarding school system in the U.S.). What came out of the investigation were "horrific stories of child abuse – physical, mental, cultural, spiritual, and the worst of all sexual abuse of children in Residential Schools," Chief Littlechild said.
With reconciliation being the ultimate goal, Chief Littlechild said the first principle the Commission adopted was "that all governments in Canada must accept, support and endorse the UN Declaration of the Rights of Indigenous Peoples as a framework." This was followed by a recommendation of 94 calls to action. Today civic workers, students of law and medicine, and even leadership and staff of some corporations are required to learn the UN Declaration, the calls to action, and the impact of the Residential School System.
Chief Littlechild said major change can be seen in recent years because of government leadership supporting the Commission's findings. "It's changed to the point where the federal government now endorses and supports the UN Declaration without qualification," he said. "In other words, free, prior and informed consent is the principle across the country."
The results of the Commission were not only a blueprint for reconciliation for the state, Chief Littlechild noted, but a call to Indigenous Peoples as well. "We have a responsibility also to teach ourselves, so in our schools it's mandatory now, and for every single meeting of the 680 national chiefs, there's no resolution that comes on the floor without being attached to an article or articles from the UN Declaration," he said.
"The UN Declaration is leading the way for change in Canada through implementation by these calls to action," Chief Littlechild said in closing. "It's really encouraging to see healing beginning to happen in our communities through these calls to actions. Private industry, corporations actually have a better opportunity to make that change and lead that change. Thankfully, after this dark history there is change coming."
Images (top to bottom): Bakken / Dakota Access Oil Pipeline, August 25, 2016; photograph by Tony Webster (license). Grand Chief Wilton "Willie" Littlechild via www.lieutenantgovernor.ab.ca.