Part 1 of a full report from First Peoples Worldwide's Shareholder Advocacy Leadership Workshop, which took place April 29, 2019, at the Interfaith Center on Corporate Responsibility in New York City. Some comments have been edited for clarity.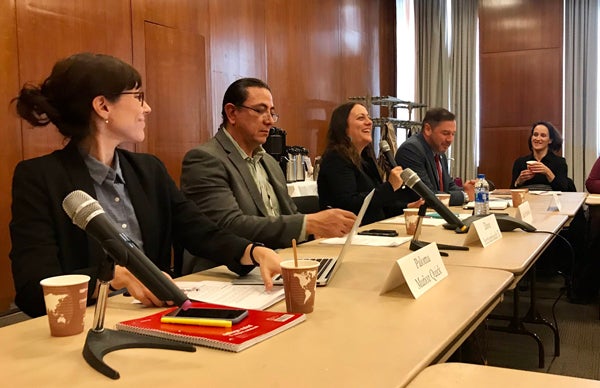 In partnership with the Interfaith Center on Corporate Responsibility and the Investor Alliance for Human Rights, First Peoples Worldwide convened a roundtable discussion with esteemed experts and special guests for a shareholder advocacy leadership workshop. The workshop drew in part from First Peoples' groundbreaking case study Social Cost and Material Loss: The Dakota Access Pipeline to outline how investors, shareholders, financial institutions and other stakeholders could partner with Indigenous Peoples to better align their investment portfolios with a commitment to international human rights norms.
Midway through the lively and broadly substantive discussion, a concerned academic and activist from South America raised an important question: is it better to focus on this type of top-level industry advocacy, or should the focus be on the impacts that harmful business practices have on Indigenous Peoples and the resulting devastation and hardships?
Carla F. Fredericks, Director of First Peoples responded: "We're at a critical moment for our very survival on the planet. There needs to be alignment and a centralized understanding of the impacts that we're talking about. Because Indigenous Peoples feel those impacts first."
Fredericks pointed to the experience of panelist Dave Archambault II as an example. Archambault, who was the Standing Rock Sioux Tribal Chairman during the Dakota Access Pipeline (DAPL) controversy, lived just 1500 feet from the pipeline when construction began in 2016. This close proximity and the potential for environmental catastrophe on sacred lands and in water resources were reasons why his tribe had opposed the pipeline since they first found out about it in 2014.
"All of us are going to feel that impact soon," Fredericks said. "We as Indigenous Peoples just happen to be first responders." 
 
DAPL CASE STUDY INNOVATES RISK MEASUREMENT, GIVES NEW DIMENSION TO THE "S" IN 'ESG'
 
At the start of the workshop, Fredericks noted that much of the conversation about Indigenous Peoples' rights and shareholder advocacy work has focused on the events at Standing Rock, specifically the intense social uprising against DAPL and the "Defund DAPL" campaign. "Those events really showcased for a generation what Indigenous Peoples' rights and concerns are, and how those concerns intersect with the objectives of resource development," Fredericks said.
The First Peoples team used these events as a starting point to examine over two years of data that unequivocally demonstrates the costly financial impact from corporate and investor failure to conduct proper human rights due diligence on the pipeline.
Released in November 2018, the case study shows that companies and investors behind DAPL accrued $12 billion in costs on what was estimated to be a $3.8 billion project because they ignored social risks. Energy Transfer Partners (ETP), the parent company of the pipeline project, incurred $7.5 billion dollars in losses, and banks lost an additional $4.4 billion due to public pressure. Figures could be markedly higher given that the three banks that divested from the project did not fully report their losses, and there has been no disclosure as to the reputational harm suffered by the banks or ETP.
What makes the case study revolutionary is how it quantified the "S" – or social risks part – of the Environmental, Social and Governance (ESG) framework used for sustainable and socially responsible investing. It used event study methodology commonly used in securities litigation, which tracks an event against company share price to demonstrate which losses are attributable to the event itself. While typically used to assess investor loss attributable to fraud and financial misconduct, Fredericks noted this is the first time that this methodology has been applied to measure social risk.
First Peoples is now working directly with investors, shareholders and corporate stakeholders to help them minimize risk and avoid loss in investments and projects, and to develop business opportunities and improve investment returns by recognizing and incorporating the rights of Indigenous Peoples into ordinary business practice.
There seems to be increasing interest across industry for this type of advance engagement, but that has rarely been the case in the past. Archambault recounted his experiences of trying to work with the major financial institutions investing in DAPL, as well as developers and the U.S. government before and during the project's construction.
"If I was to think about financial institutions or investors, the furthest thing from their mind is to try to engage or to partner with Indigenous Peoples," said Archambault. "Engagement with Indigenous Peoples doesn't take place until there is some noise that comes about. It seems like nobody listens until there is a risk to the returns."
Workshop panelists offered several solutions to how businesses and investors can avoid the costly mistake of ignoring the rights and wellbeing of Indigenous Peoples.
 
TO ALIGN WITH HUMAN RIGHTS, BRIDGE DIVIDE BETWEEN INVESTORS AND INDIGENOUS PEOPLES
 
Fredericks moved the conversation to the importance of aligning investments with international human rights norms and the many ways investors can partner with Indigenous Peoples for positive impact. "In thinking about how to break down the divide between investors and Indigenous Peoples and get to a place of shared humanity and planet, we really need to think about partnership," she said.
Chris James, who heads up The National Center for American Indian Enterprise Development, and who is of Cherokee descent, shared where he saw opportunities for investment in Indian Country (encompassing the 573 federally-recognized tribes in the U.S.), specifically into energy projects, tourism hospitality, and technology.
He noted that several tribes have industrial parks where they have broadband, a workforce, and opportunities for incentives if a company wants to open a facility. These properties are often located in opportunity zones – hub zones for government contracts – where there are additional tax incentives.
One example of creating financial and social benefit that James gave was the Chickasaw Nation Community Development Endeavor, where the tribe received an allocation of $20 million in new market tax credits. The tribe was able to invest that into three major projects: building a healthcare facility, a project with mixed-use housing, and a small business venture.
While there was a significant return for the investor, the projects were also beneficial because they created jobs and, with the health center, a healthier community.
The types of impact investments with good returns that James sees are those that create businesses and jobs. One challenge is ensuring the tribal community is prepared to receive and to access the opportunity when it arrives. James noted that many communities are making strides to prepare for this type of business partnership.
James said that companies are looking at new areas specifically in the southwest, and really identifying those that have shovel-ready projects, workforce or broadband capacity, or some type of rail or industrial park.
Terri Henry, member of the UN Permanent Forum on Indigenous Issues and a member of the Eastern Band of Cherokee Indians, discussed investment opportunity from her perspective as a tribal leader and in the context of tribes and their businesses.
Funds from economic development initiatives provide the basic services that tribal governments deliver as sovereigns, including law enforcement, funding social programs such as housing, and providing infrastructure like roads, water and sewers. Thus, tribal leaders are seeking to create profitable economic development ventures for the benefit of their citizens.
Henry estimates that Eastern Band Cherokee Indians have approximately $1 billion worth of investments, including two endowments. As a tribal leader, Henry made it a priority to ensure their investors developed a socially responsible investment policy for the tribe, something that was not automatically happening. Her goal was to have a positive impact on Indigenous Peoples' lives anywhere in the world.
"We as tribal nations have the capability to develop and pass laws, and we as tribal nations have the ability to enforce those laws," Henry said. "So when we develop the social policy for our investment managers, that gives them the signal that we don't want any of our money to be [negatively] impacting any Indigenous Peoples in any parts of the world."
Henry also discussed climate change in the context of investments and Indigenous communities. She noted companies are increasingly approaching tribes about this and will likely be asking Indigenous Peoples for their knowledge and help when implementing the Paris Climate Agreement. Some companies are even saying they don't think they can move forward without the involvement of Indigenous Peoples.
Henry noted this raises the question if Indigenous land rights will be recognized.  "And that's where all these conversations and all of these efforts get really complicated," she concluded.
Continued in Part 2.
 
Image: Panelists take part in First Peoples Worldwide's most recent Shareholder Advocacy Leadership Workshop, including (l-r) Paloma Muñoz Quick, Director of the Investor Alliance for Human Rights; First Peoples Worldwide Sr. Fellow Dave Archambault II; First Peoples Worldwide Director Carla F. Fredericks; and Chris James, President and CEO, The National Center for American Indian Enterprise Development. Photo by @InvestForRights.