Institutions across the nation recognized the valuable contributions of postdoctoral scholars and their mentors last week.
CU Boulder's Office of Postdoctoral Affairs (OPA) and the Postdoctoral Association of Colorado Boulder (PAC Boulder) celebrated National Postdoc Appreciation Week (NPAW) with a mix of awards and events throughout the week. It proved to be the most successful NPAW yet for CU Boulder, with record turnout for nearly every happening of the week.
Now in its tenth year, NPAW is annually sponsored by the National Postdoctoral Association to highlight the impact postdocs have on the research, scholarly and creative work enterprise of institutions.
Awards
OPA kicked off the week with an appreciation lunch and recognized award recipients for a number of programs.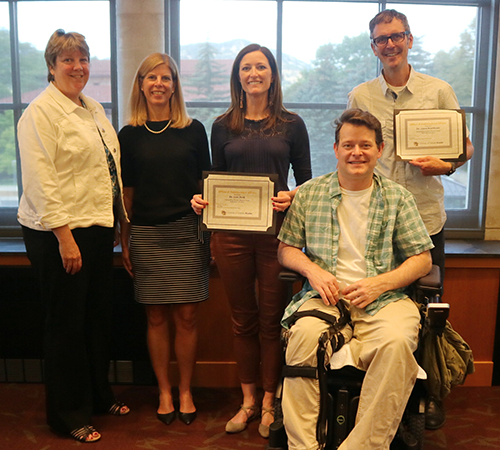 OPA's Outstanding Postdoc Award, reserved for postdocs excelling in research productivity and innovation, communication and leadership, was awarded to Drs. Fabian Hoffmann (CIRES/NOAA) and Brady Worrell (MCDB). Hoffmann was nominated by Dr. Graham Feingold (CIRES/NOAA), whose research group looks at cloud fields and climate impact. Dr. William Old (MCDB) put forward Worrell, who works with molecules to "shape shift" and develop drugs targeting cancer. Worrell has already founded two companies to commercialize technologies. 
OPA's Outstanding Postdoc Mentor Awards, recognizing exceptional advisors, were presented to Drs. Lori Peek and Jason Boardman (pictured at right), both of Sociology and the Institute for Behavioral Sciences (IBS). Peek, a recipient of almost a dozen teaching and mentoring awards, was nominated by postdocs Rachel Adams, Mason Matthews (pictured at right), and Haorui Wu, who described her as inspiring, trusting and someone who has enriched the lives of postdocs at CU Boulder. Boardman – director of the Health & Society Program in IBS and associate director of the CU Population Center – was nominated by Ben Domingue, Tom Laidley, Brooke Huibregtse, Jonathan Daw and Mike Roettger. The group of postdocs described Boardman as an "uncommonly generous scholar…giving of time and attention, charitable with resources and connections, and where due, always happy to share credit for intellectual contributions."
Drs. Valeria Barra (Computer Science) and Benjamin Nault (CIRES/Chemistry) were acknowledged for successfully completing OPA's Professional Development Track program, designed to foster career exploration and preparation, professionalism, and research and writing.
The luncheon also included PAC Boulder President Pascal Merz, who highlighted the organization's purpose to build a community through social events and other activities. Merz recognized winners of the PAC Travel Award program, which provides support for postdocs to present at conferences. Recent postdoc recipients include Laura Rios (JILA/Physics), Robert Thompson (Integrative Physiology), Joseph Grim (Biofrontiers/Chemical & Biological Engineering), Daniel Craighead (Integrative Physiology), Kate Sprecher (formerly with Integrative Physiology), Anna Braswell (CIRES/Earth Lab) and Mohammad Amin Hariri-Ardebili (Civil, Environmental & Architectural Engineering). PAC Boulder is currently accepting travel award applications through October 10, 2019.
PAC Boulder also discussed its upcoming Front Range Industry & Postdoc Summit (FRIPS) on October 11. The goal of FRIPS is to spread awareness of industry jobs and connect postdocs with private sector representatives.
Image L-R: Terri Fiez (Vice Chancellor for Research & Innovation); Karen Regan (Assistant Vice Chancellor for Research & Innovation); Lori Peek (Sociology); Mason Matthews (one of Peek's nominators); Jason Boardman (Sociology).
Socials
The two most popular events of the week were socials, both on-and off-campus. On Tuesday evening, over 50 postdocs connected at Fiske Planetarium for a laser show of Pink Floyd's renowned album, Dark Side of the Moon. On Thursday, around 40 postdocs and their families joined PAC Boulder at the Rayback Collective for music, food and drink.
Professional development
About 40 postdocs took advantage of free professional portraits offered by Strategic Relations on Wednesday. Many postdocs use these portraits for their lab and personal websites and LinkedIn. (If any postdoc has not yet received their photo, please email opa@colorado.edu.)
NPAW concluded on Friday, September 20 with a session on "How to Deliver an Effective Chalk Talk." Dr. Serge Campeau, a professor in psychology and neuroscience, led a presentation on best strategies when preparing and delivering chalk talks, an increasingly common element of the faculty hiring process.  
To learn more about the Office of Postdoctoral Affairs, visit colorado.edu/postdoctoralaffairs or email opa@colorado.edu.