Mission & Vision:
The McNeill Program is committed to creating a place of belonging and connection among students, staff and faculty. We engage and support students to help them realize their full academic and personal potential while valuing the differences which make each of them unique. 
Our purpose is to inspire students to meet the challenges of education, to graduate with university degrees, and to become active contributors to their communities.
Provide a stimulating and challenging academic experience
Strengthen problem-solving and critical-thinking skills
Familiarize students with CU Boulder's academic culture
Connect students to faculty and campus resources
The McNeill Academic Program is named for Kelvin McNeill, a University of Colorado student from the Fall of 1987 until he graduated with a B.A. in Political Science in the Fall of 1991. He was an excellent student while at the University and participated in the very program that now bears his name.
Kelvin worked for the City of Boulder's Office of Public Relations for many years, at first as an intern, and later as a spokesperson for the city. In 1997 he became the Director of Communications for the Gill Foundation. Kelvin worked actively throughout his lifetime for social justice causes as an African American Gay man. In 1998, he was unfortunately struck by an automobile and passed away in Amsterdam while attending the Gay Games. He was 29.
As a person who overcame significant obstacles to achieve his educational and professional goals, Kelvin McNeill embodied the values and principles of this program: scholarship, community, and multiculturalism. While he is no longer with us, his contribution and legacy are significant, and we hope his memory can serve as a model to future generations of students at the University of Colorado. Kelvin is shown here receiving an award from the Colorado Black Journalists Association.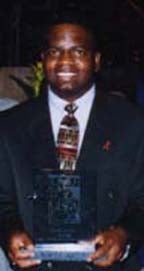 Kelvin McNeill (1969-1998)