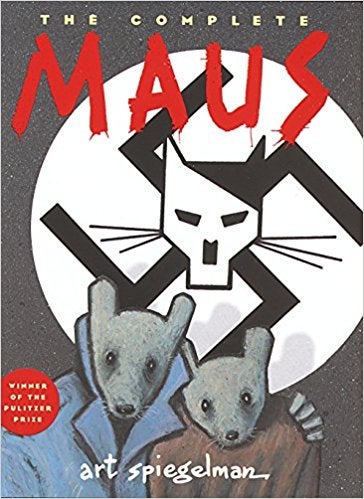 Maus is a graphic novel. Maus is a comic. Maus is a historical documentation. Maus is a memoir. An unprecedented genre, Art Spiegelman created Maus to record his father's experience in the Holocaust, and in doing so, recorded his experience being the son of a survivor, and his experience writing about the experience of being the son of a survivor (what a demanding task!). Maus is an extraordinary example of creative nonfiction. In 1992, it became the first graphic novel to win a Pulitzer Prize.
The layered storytelling of this novel creates interesting discussion. It is a story of Art's father's experience in the Holocaust, of Art's relationship with his father during the time of creating the book, and also the story of the book's creation process. The past and the present mesh in a way that highlights the difficult experience of a survivor and his/her family. What does it mean to survive a trauma? Does one have to experience the trauma first-hand to be a survivor? The comic panels share a unique story that reveal the power of images, images that speak when sometimes words cannot.
The metaphor of the novel represents Jews as mice, Germans as cats, Poles as pigs, French as frogs, and Americans as dogs. The present moment has humans wearing these animal masks, while the past depicts the animals as themselves.
It is a heart-wrenching story of love, loss, survival, family, empathy, and identity. The complexity of the story is reflected in the layered, multi-dimensional writing. Its play with memory and language reveal the power of memoir, the creativity in creative nonfiction.
Source:
https://www.amazon.com/Complete-MAUS-Art-Spiegelman/dp/0141014083