Between January and April 2022, youth activists and scholars from around the world convened virtually to explore their shared interests in social justice and political change. Panelists discussed strategies and lessons learned from youth-led social movements for democracy, peace, and human rights in non-dominant parts of the world.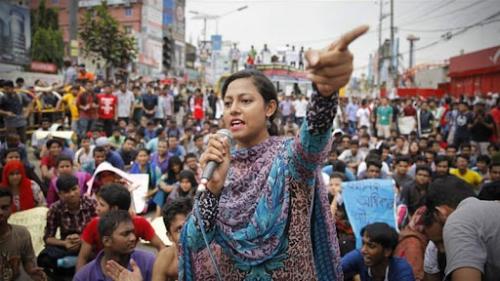 publicly circulated image of protests in Bangladesh [photographer unknown]
The monthly sessions were organized by the Democracy Moves International Scholars network, a collaborative project of CU Boulder's Research Hub for Youth Organizing and SNF Agora Fellow Scott Warren. Youth activists and researchers discussed social change goals and strategies, made new connections with each other, and considered how research could support youth organizing. Session #1 discussed youth experiences and activism in Zambia, Bangladesh, and Nigeria; session #2 focused on peace-building and participatory budgeting Cameroon, Mexico, and Kenya; session #3 examined young people's collective responses to digital repression in Thailand.
These Spring 2022 sessions provided a unique opportunity to exchange ideas about how young people are rising to meet challenges of authoritarian rule, armed conflict, corruption, and shrinking civic space. Here we highlight five takeaways for organizing and movement-building.
Leveraging non-partisan youth identity
In highly politically polarized countries, youth organizers wanted to keep their movements from being co-opted by political parties, which many viewed as corrupt and ineffective. In response, panelists talked about mobilizing young people around their shared identities as youth. Maha Mirza, a scholar activist in Bangladesh, shared that the protests were spontaneous responses to certain policies and events (for e.g., two high school students getting killed in a road accident by a bus). To communicate their non-partisan "youth" identity, Bangladeshi protesters dressed up in school uniforms and carried their ID cards for display. Similarly, a youth activist from Zambia, Grace Gondwe, emphasized that young people are turned off by political parties and their agendas. Instead, youth-led campaigns in Zambia are focused on issues facing young people, such as livelihoods and addressing economic difficulty.
Forging intergenerational alliances
Organizing across generations of people has been documented in recent social movement research. This ideal of multigenerational coalitions also emerged in the conversations with youth activists. For instance, in Nigeria, underscoring the history of intergenerational activism against suppression of social movements, movement leaders prioritized their shared history and created spaces for younger and older activists to learn about different experiences and movement, thereby building knowledge across generations. In Cameroon, Caryn Dasah shared the example of a peace-building retreat she organized where young people who had been displaced by armed conflict joined together to build community and find support across generations. In non-violent protests and activism in Thailand, Janjira Sombatpoonsiri reported that masses of people, ranging from high school students to university professors, came together to protest the violent and digital repression of the monarchy.
Centering community and local traditions
Several of the youth organizers described how they utilized local traditions, paid explicit attention to indigenous practices, and prioritized community healing in their organizing efforts. For instance, fueled by historical injustices, youth activists in Kenya and Philippines focused their efforts on caring for one another to enable youth leadership. They paid attention to meeting the community's basic needs, such as provision of mental health services and support, distribution of hygiene and safety kits, COVID-19 specific relief kits, community yoga and meditation, and bike sharing programs. In their efforts to build and sustain peace in Cameroon, youth activists provided care for those who had lost loved ones or faced trauma due to the conflict. They brought people together for a storytelling session around a fireplace, a traditional practice of community building, and discussed the role of community and women in peacebuilding. In the case of participatory budgeting in Mexico, Aline Yunery Zunzunegui López discussed how her organization engaged in culture change and youth organizing by drawing on local cultural practices supporting collaboration and community-building.
Committing to non-violence
An underlying theme across all the youth activist projects discussed in the sessions was the non-violent approach to their work. This principle of non-violence showed up across contexts, whether in building the capacity of women, educating community members to speak up for their rights, or creative responses to state violence, such as through humor, profanity, and "digital deception."
Taking advantage of digital media tools
Speakers reported on increased digital repression, that is, the use of digital tools to suppress dissent and limit youths' efforts to organize. In Thailand, for example, the state surveilled social media to find out where and when young people would mobilize. In the face of these challenges, however, youth found unique ways to use and repurpose the same digital tools for their own organizing goals. In the Nigerian case, youth activists used the hashtag #EndSARS to organize small scale protests and file online petitions signed by thousands of people. Youth activists in Thailand repurposed social media tools to deceive the government and keep their protests and movements one step ahead of authorities, such as by spreading misinformation about protest locations and changing the location of their protests at the eleventh hour to mislead the government. Youth also sought to use creative strategies to counter the use of social media by provocateurs seeking to stoke fear and violence among conflicting groups, such as in Cameroon.
The above-mentioned strategies represent only some of the ways youth are organizing collectively, sometimes with older generations, to build strong communities, foster youth leadership, and counter authoritarian or corrupt governments. We need to pay attention to the agency apparent in their activism and organizing to counter the challenges they face in everyday lives. This also calls for creating more knowledge sharing spaces where youth activists and engaged researchers can come together from different geopolitical contexts to exchange ideas, develop strategies, sustain each other, and build their capacity to push forward the right to dissent and organize for social change. The Spring 2022 Democracy Moves Scholars Sessions offered the beginnings of such a space. Given diverse time zones, virtual calling fatigue, varied levels of internet connectivity for activists, and the threat of the ongoing pandemic, among other global struggles, we were not sure how much energy or desire there would be for these virtual sessions. Although relatively small (averaging about 20 people per session), we are heartened by the quality and level of participation in each session. We see value and interest in continuing spaces like these. Stay tuned for updates about upcoming directions for the Research Hub and our role co-leading the Democracy Moves International Scholars Network.
Ishita Pradhan is a Doctoral Candidate in Learning Sciences & Human Development, University of Colorado Boulder
Dr. Ben Kirshner is Professor and Program Chair, Learning Sciences & Human Development, University of Colorado Boulder