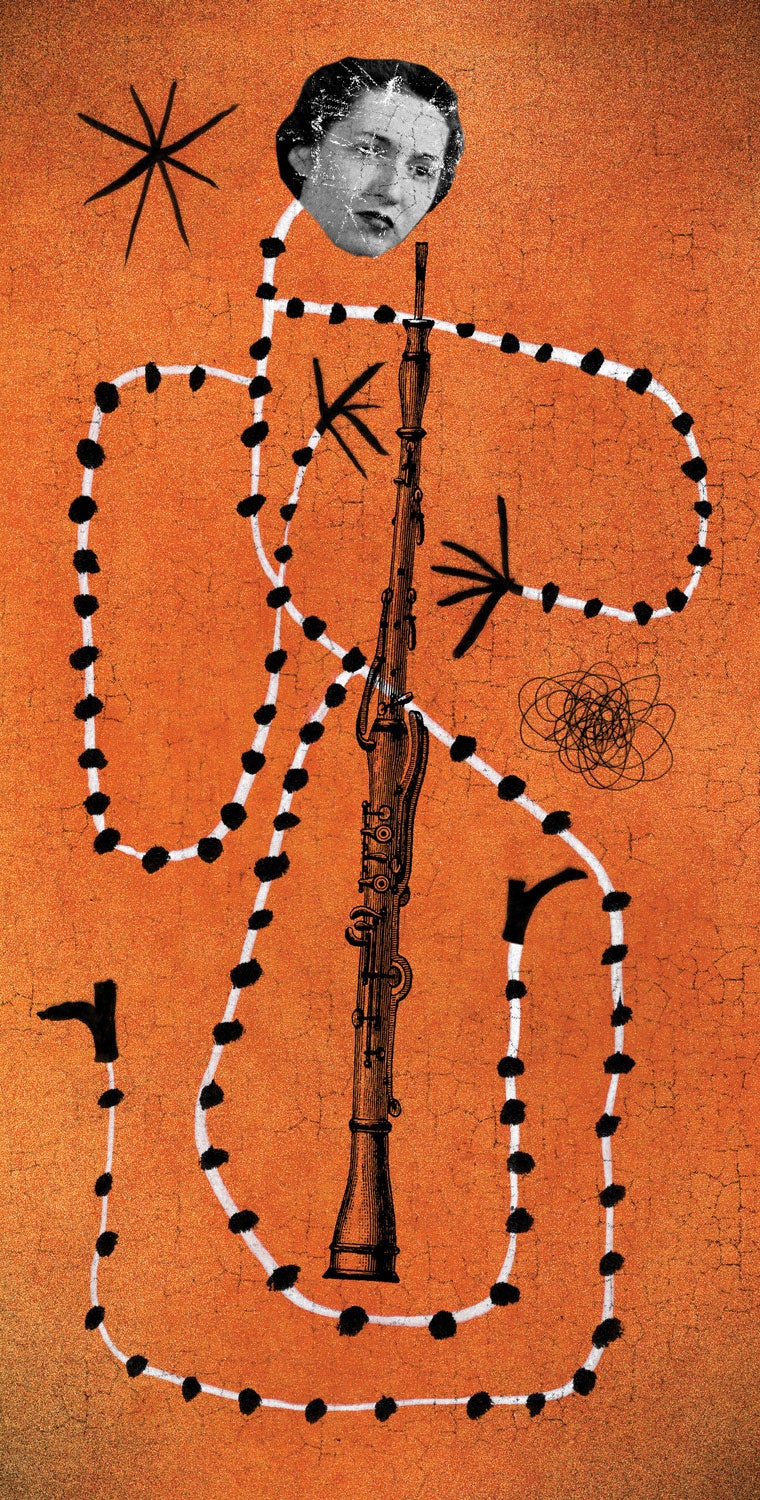 Brittany Bonner (MMus'20) exhales. She glances in a mirror to observe signs of tension in her body. She inhales deeply, picks up her oboe and plays again.
The oboist from Mansfield, Texas, is practicing her vibrato — a gentle-but-regular variation in pitch — to add natural-sounding depth to her tone. A convincing vibrato requires controlled breathing, and muscular tension can interfere or cause it to disappear.
Fortunately, Bonner's got James Brody to help sort things out.
"Musicians move athletically," said Brody, the CU Boulder music professor who founded CU's Musician's Wellness Program, which helps students avoid or recover from injuries caused by repetitive motions and quirks of technique, setting themselves up for longer periods of peak performance.
Brody, also an oboist and the program's primary faculty instructor, sees more than 100 CU students annually. Some have injuries such as tendonitis or vocal cord dysfunction, which, if unaddressed, can compromise a musician's future and sense of identity.
"Music students lead complicated lives," said Brody, who also refers them to a network of on-campus physicians, physical therapists and counselors, as necessary. "What they do is tied very closely with their vision of themselves."
Established in 2003, the wellness program offers students individualconsultations and academic credit courses, all of which involve the Alexander Technique. It's a method of releasing tension through adjustments to posture and movement based on body awareness.
Students use yoga balls, mats and mirrors in Brody's office, where he keeps, as an instructional aid, a full-size model human skeleton. The program will move to bigger quarters in 2020, once the music school's $57 million, 64,000 squarefoot addition opens.
CU was among the first universities to offer a music wellness program, according to Brody, who convinced administrators the Alexander Technique and other wellness approaches could equip music students for success. He adopted it himself in his early twenties, as he recovered from a devastating car accident.
The program helped draw Bonner, 25, to CU.
"I've had to take a few steps back to try to go a few steps forward in  my playing," said Bonner, who's played oboe since sixth grade, performs in CU's graduate woodwind quintet and plays about six hours daily in ensembles and alone.
Brody helped Bonner realize she was bringing her hands too far forward while playing. She's since adjusted her arm stance, leading to a more efficient posture and sound.
"When [injury] occurs," Brody said, "often the musician will try harder instead of observing habitual behavior and altering maladaptive patterns. Brittany may have averted a damaging situation."
Sometimes, a performer's challenges are psychological. Bonner said she experiences performance anxiety daily, and is working to diffuse it when it arises.
"I understand the life of a music student," said Matthew Tomatz of CU's Counseling and Psychiatric Services, a psychotherapist and former trumpet player who works with music students. "You're competing fiercely with your friends. … Underneath all of that is a huge uncertainty about career and what it will yield."
Bonner, whose favorite composers include Dvorak and Beethoven, aspires to join a professional orchestra.
In the wellness program, she's in good company: Edward Dusinberre, first violinist in the world-renowned, CU-based Takács Quartet, has worked with Brody for 15 years.
"His guidance has enabled me to be much more mindful of the way I play," said Dusinberre, who's seen students become more efficient and healthier performers.
"When someone learns to play with less effort and strain," he said, "suddenly a greater range of volume and types of sound are possible."
Illustration by David Plunkert