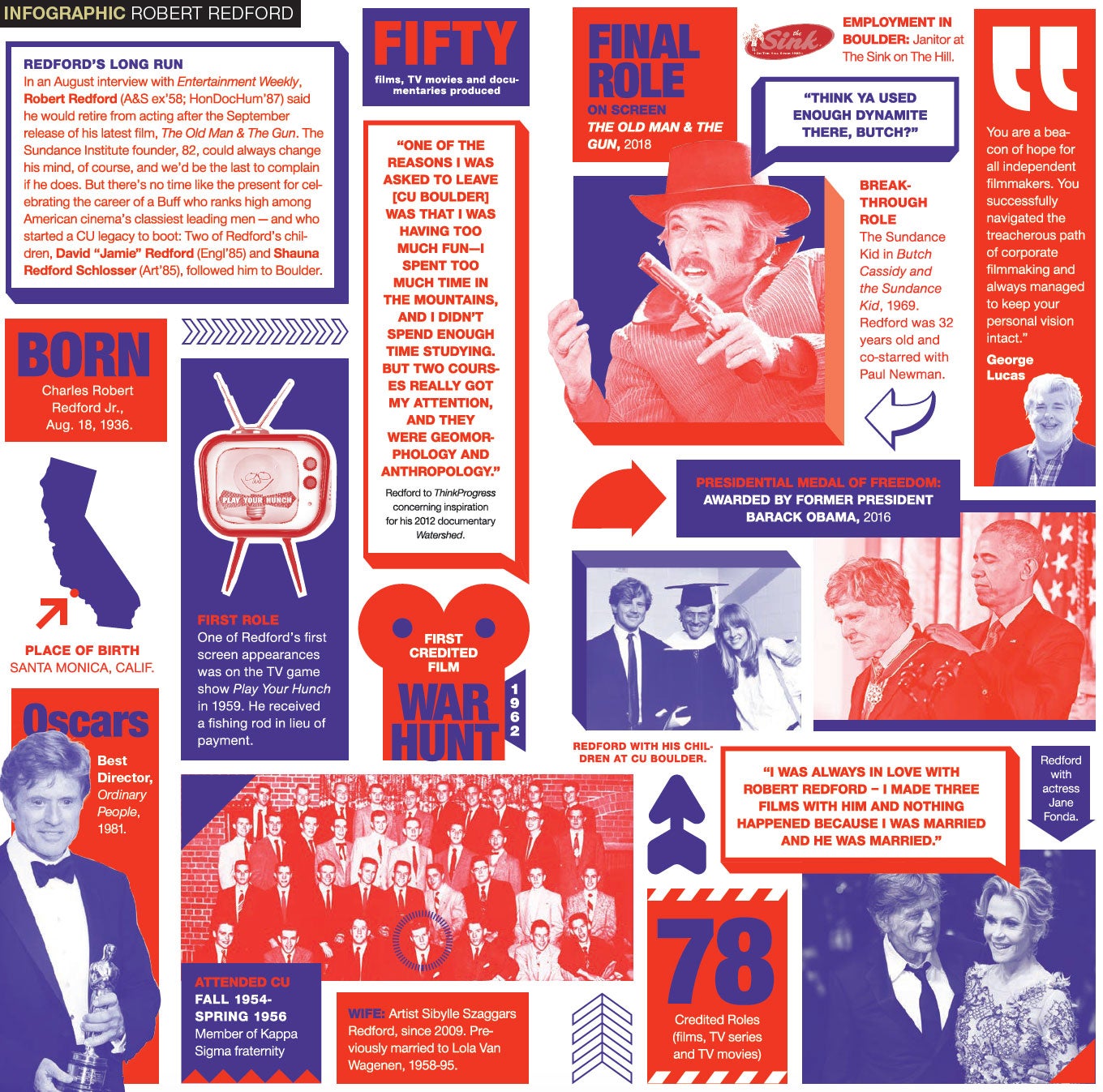 Redford's Long Run 
In an August interview with Entertainment Weekly, Robert Redford (A&S ex'58; HonDocHum'87) said he would retire from acting after the September release of his latest film, The Old Man & The Gun. The Sundance Institute founder, 82, could always change his mind, of course, and we'd be the last to complain if he does. But there's no time like the present for celebrating the career of a Buff who ranks high among American cinema's classiest leading men — and who started a CU legacy to boot: Two of Redford's children, David "Jamie" Redford (Engl'85) and Shauna Redford Schlosser (Art'85), followed him to Boulder. 
Born: Charles Robert Redford Jr., Aug. 18, 1936
First Role: One of Redford's first screen appearances was on the TV game show Play Your Hunch in 1959. He received a fishing rod in lieu of payment. 
First Credited Film: War Hunt, 1962 
Films, TV Movies and Documentaries Produced: 50
Oscars: Best director, Ordinary People, 1981
Attended CU: Fall 1954-Spring 1956; Member of the Kappa Sigma fraternity 
Employment in Boulder: Janitor at The Sink on The Hill 
Wife: Artist Sibylle Szaggars Redford, since 2009. Previously married to Lola Van Wagenen, 1958-95. 
Credited Roles (films, TV series and TV movies): 78 
Presidential Medal of Freedom: Awarded by former President Barack Obama, 2016 
Breakthrough Role: The Sundance Kid in Butch Cassidy and the Sundance Kid, 1969. Redford was 32 years old and co-starred with Paul Newman. 
Final Role on Screen: The Old Man & The Gun 
Quotes: 
"One of the reasons I was asked to leave [CU Boulder] was that I was having too much fun — I spent too much time in the mountains and I didn't spend enough time studying. But two courses really got my attention, and they were geomorphology and anthropology." Redford to ThinkProgress concerning inspiration for his 2012 documentary Watershed. 
"You are a beacon of hope for all independent filmmakers. You successfully navigated the treacherous path of corporate filmmaking and always managed to keep your personal vision intact." George Lucas 
"I was always in love with Robert Redford — I made three films with him and nothing happened because I was married and he was married." Jane Fonda  
Photos by @Shutterstock/Andrea Raffin; Featureflash Photo Agency; Denis Makarenko; Alamy Stock Photo/MediaPunch Inc: AF archive; Coloradan archives