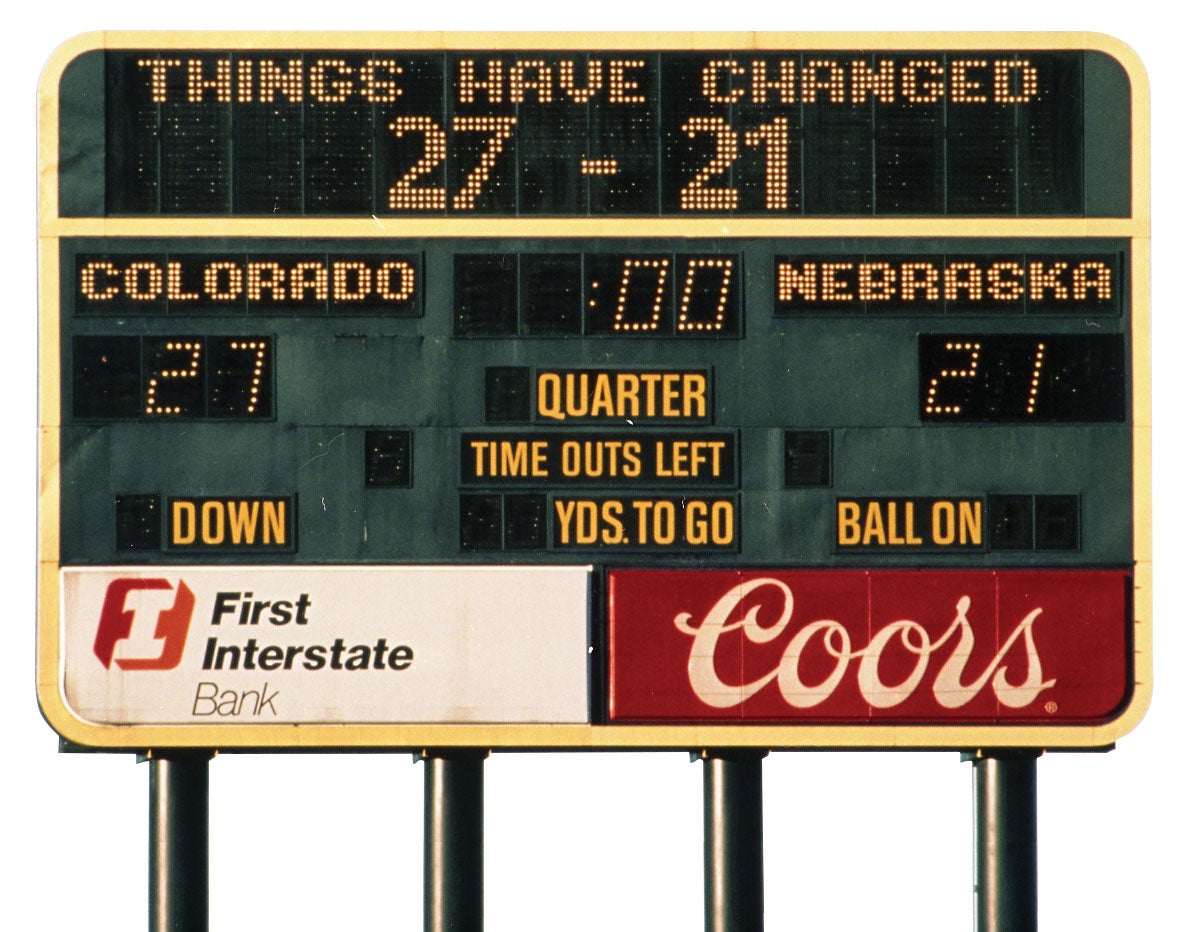 When Bill McCartney was hired as CU's football coach in 1982, the Buffs had lost 18 in a row to the Nebraska Cornhuskers.
More of our favorite Facebook comments:
Four years later, CU beat Nebraska 20-10 at Folsom Field. The crowd tore down the goal posts.
"I remember they kept the scoreboard lit up for a week," James Brodie (Engl'83) wrote on Facebook in response to a call for memories of the fall classic.
The Buffs' win injected new life into the annual matchup, which continued until CU left the Big 12 conference for the Pac-12 in 2010.
On Saturday, Sept. 8, the Buffs travel to Lincoln to resume the old contest at Memorial Stadium. CU will host Nebraska in 2019.
Based on the avalanche of responses to the CU Boulder Alumni Association's April Facebook post — more than 1,300 in all, from alumni and friends alike — Buffs Nation is primed and ready.
Hundreds of stories emerged about missed Thanksgiving dinners, snowball fights between fans, Eric Bienemy's (Soc'01) four fourth-quarter touchdowns and the typically freezing weather.
Here are snippets from some of our favorite anecdotes, as shared on Facebook.
"62-36. My first live football game and went with my new girlfriend. Been married to that beautiful lady for almost 13 years now!"

Charles Jacobs
"In the early '80s our car wouldn't start while we were parked at a small shopping center. We were worried about getting to the game and along came a carload of Nebraska Huskers who fixed our car for us — fun day!"

Sherry Holt-Burgos (MEdu'82)
"The only way I could get a ticket for the Saturday night nationally televised game in the late '80s was to work security for the game. It was a very cold night. As the game was winding down I made my way to the sidelines. The game was tied and I was on the Nebraska sideline. Nebraska had the ball in CU territory and set up for a game-winning field goal. As time expired Nebraska's kick was blocked and the ball rolled my way. Once out of bounds, I picked it up and ran out on the field holding it high."

David Ward
"Sitting in the hospital holding my newborn daughter while watching CU throttle the Corn 62-36!"

Daryl Eggers Jr.
Register for our Buffs Bash tailgate before the big game at colorado.edu/alumni/football-buffs-bash
Photo courtesy CU Athletics