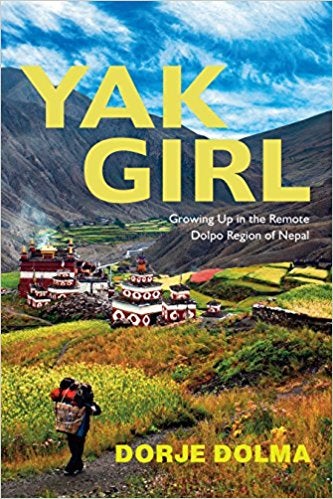 By Dorje Dolma (Art'08)
(Sentient Publications, 328 pages; 2018)
This unusual memoir immerses the reader in the fascinating story of a spirited girl in a remote, undeveloped region of Nepal near the border of Tibet, a place made known to the world in Peter Matthiesen's The Snow Leopard. Life above 13,000 feet in northern Dolpo―often called the last paradise because of its breathtaking snow-capped peaks, untouched beauty, and hand-irrigated green pastures―was one of constant risk and harsh survival. In the 1980s, Dolpo had no running water, electricity, motor vehicles, phones, school, or doctors, other than the local lamas, trained in the use of herbs and prayer. 
Dorje Dolma's life centered around the care of her numerous younger brothers and sisters and the family's sheep, goats, and yaks. At age five she began herding and was soon taking the animals high in the mountains, where she fought off predatory wolves and snow leopards. Covering her first ten years, the story takes Dorje from her primitive mountain village to the bewildering city of Kathmandu, and finally to a new home in America, where she receives life-saving surgery.
With humor, soul, and insightful detail, the author gives us vividly told vignettes of daily life and the practice of centuries-old Tibetan traditions. She details the heartbreaking trials, natural splendors, and familial joys of growing up in this mysterious, faraway part of the world with its vanishing culture. The sharp increase in recent years of western trekkers to the area, and the introduction of modern communication and transportation, is causing rapid change in Dolpo. This wonderful and surprising tale of survival, loss, and self-reflection offers us entry to this difficult, yet magical, place. 
Above all, this is the inspiring story of an indomitable spirit conquering all obstacles, a tale of a girl with a disability on her way to becoming a dynamic woman in a new world.