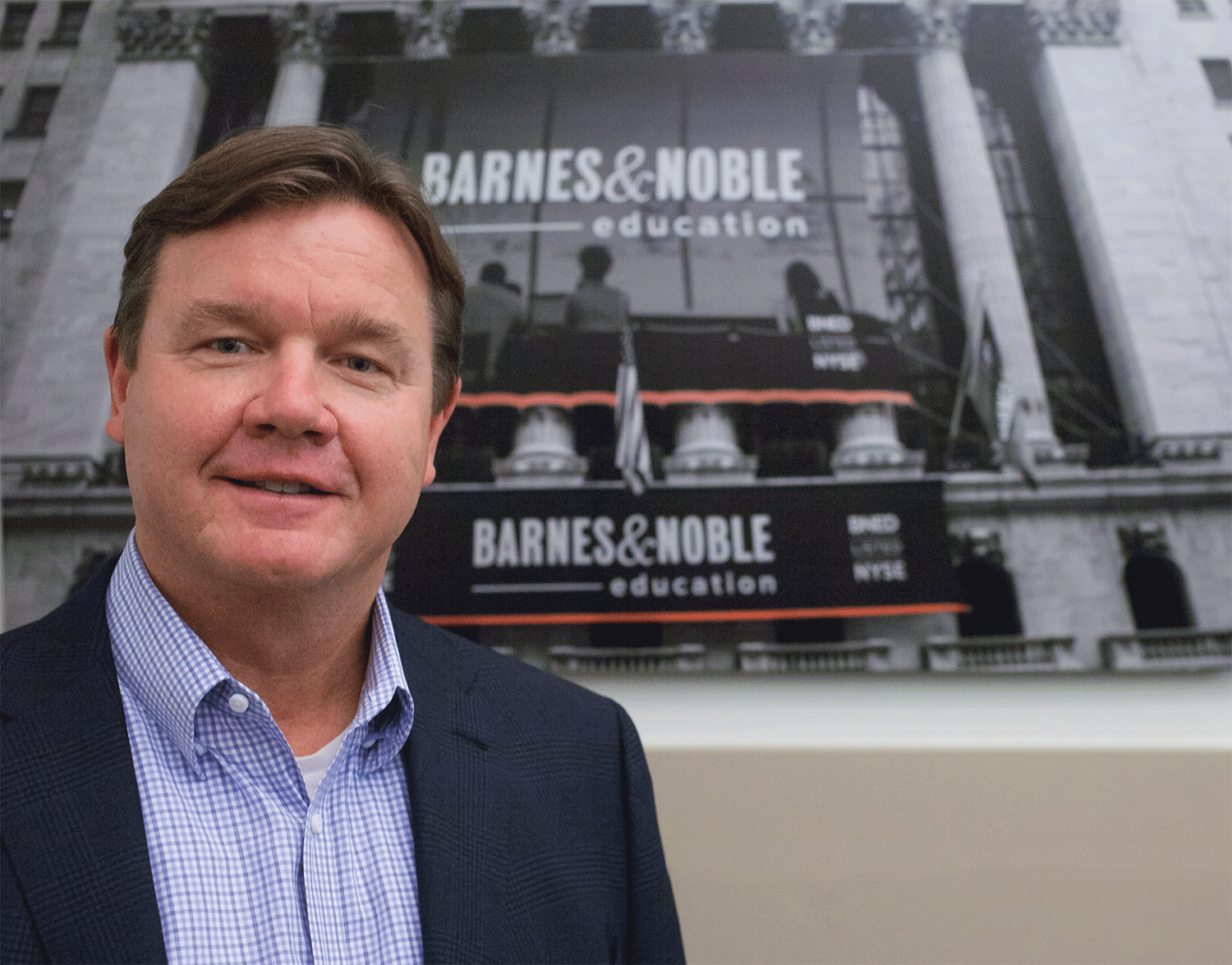 When Barnes & Noble, Inc. recruited Michael P. Huseby (Bus'76) as chief financial officer in early 2012, the bookseller coveted his background as a pioneering cable TV executive steeped in mergers and spinoffs. His new bosses also prized his knack for rolling out digital systems in consumer media.
Huseby offered all that. But his vision for Barnes & Noble grew from more than his experience merging AT&T Broadband into Comcast, helping resolve complex issues at Charter Communications and spinning off Madison Square Garden from Cablevision.
He called on his upbringing as a high school English teacher's son who was reading Huckleberry Finn at age 4, and on an abiding belief — rooted in sports — that being a strong competitor requires discipline and teamwork.
Michael P. Huseby

(Bus'76)

Long Island, New York 

Former CEO, Barnes & Noble, Inc. Now executive chairman, Barnes & Noble Education, Inc.
"I was really more interested in how education was going to change," Huseby, 62 and a father of four, said in an interview in his loft-style New York City office.
Within two years he was CEO, taking over the nation's largest bookstore chain, including both retail and college bookstores, amid an industry evolution still underway.
"I came to Barnes & Noble because of the opportunity to improve our country's higher education system, not because of the digital opportunity," he said. "At the stage of my career that I was in, I decided that I wanted to do something that I could really feel good about in terms of making a contribution."
Today Huseby is executive chairman of Barnes & Noble Education, Inc., a New York Stock Exchange-traded company created in summer 2015 when Barnes & Noble split into separate businesses for general retail and the university bookstore market. The company owns and operates more than 770 college bookstores, serving 250,000 faculty and more than five million students.
Huseby's goal is nothing short of revolutionizing the way publishers and universities deliver books and information to students and professors. He wants to help the industry standardize and unify digital platforms, in much the same way he helped the cable industry do that decades ago.
The task will call on his ability to bring together people and institutions with conflicting backgrounds and interests — a familiar challenge. In 2014, as the new Barnes & Noble CEO, he insisted on merging the firm's digital and retail businesses, which had developed entirely independent cultures.
At Barnes & Noble Education, he said, "We'd like to be a leader in bringing together the various elements of higher education. Our mission really is to provide an improved educational experience at a lower cost, so it's available to a broader spectrum of our society...That's what's driving me."
Despite his background in electronic media, Huseby's vision preserves printed volumes as a core product, perhaps the core product.
"I always loved books, and I still do," he said. "The epitaph for the bookstore has been written a few times, and when I first came here, if you looked at the headlines, you would have thought Barnes & Noble was going to be out of business by now."
But, decades into the digital age, printed books are still selling by the millions from brick-and-mortar bookstores.
Said Huseby: "It's a personal experience when you open a book, and it's something you can really escape to as opposed to another screen that you're going to be looking at."
Personally, he favors historical nonfiction. His office bookcase gives prominence to business texts such as Michael E. Porter's landmark On Competition. He uses a NOOK Tablet for reading the New York Post and the Wall Street Journal.
Born in Chicago, Huseby is the sixth child of parents who divorced before he was born. Raised by his mother in the city and nearby Oak Park, he was a consummate sports fan and solid athlete. He worked as a caddie, vacuum cleaner salesman and busboy, coaching basketball at the summer camp of Ray Meyer, the legendary DePaul coach, who offered him a scholarship.
Full of fond memories of a childhood year in Colorado, Huseby chose CU instead.
Colorado, he said, "felt good to me." 
Huseby might have been a walk-on for the Buffaloes basketball team, but he was satisfied playing on a top-ranked intramural team and studying martial arts. He became vice president of the accounting honors society and passed his certified public accounting exams before graduation — less rigorous exams than today's, he told graduates in a 2015 commencement address at Leeds, which conferred on him its alumni achievement award.
From the start, Huseby was no backroom bean counter.
"The business school really encouraged interaction with the business community, so I was meeting a lot of people," he said.
Around the same time, he grew interested in community service. This has led to many nonprofit board positions with, among others, the I Have a Dream Foundation and Big Brothers Big Sisters of Colorado, the latter involvement partly inspired by the fact he didn't meet his father until age 13 — though he had strong male role models in a grandfather and a World War II-vet uncle.
It's a personal experience when you open a book." 
Huseby started his career in Chicago with Arthur Andersen LLP, later Andersen Worldwide. Within a few years, he was back in Colorado, where he led the firm's global practice in cable — and also its ski industry practice, making for some nice business trips.
In those days, cable companies, such as John Malone's Tele-Communications Inc., were consolidating a fractured industry — forming a rising platform for ambitious young executives. Huseby joined AT&T Broadband after it bought TCI's cable business, moved to Charter Communications and, in 2004, to New York-based Cablevision, always in top finance and strategy positions.
By 2011, having helped Cablevision spin off Madison Square Garden and AMC Networks, Huseby was taking some time off and spending the summer with his teenage sons — when Barnes & Noble called. The connection was through Liberty Media, Malone's holding company, which owned a large stake in the bookseller and had its CEO on the board of directors.
"The theme that runs through all this is people and relationships as much as training and skills," Huseby said.
In his Leeds commencement address, he told graduates to seek work at employers with a commitment to keep educating them, even if the firms weren't the sexiest choice.
It's always about education. That's been Huseby's strategy, and it's worked out pretty well. 
Photo by Dan Haar (top); © iStock/aluxum