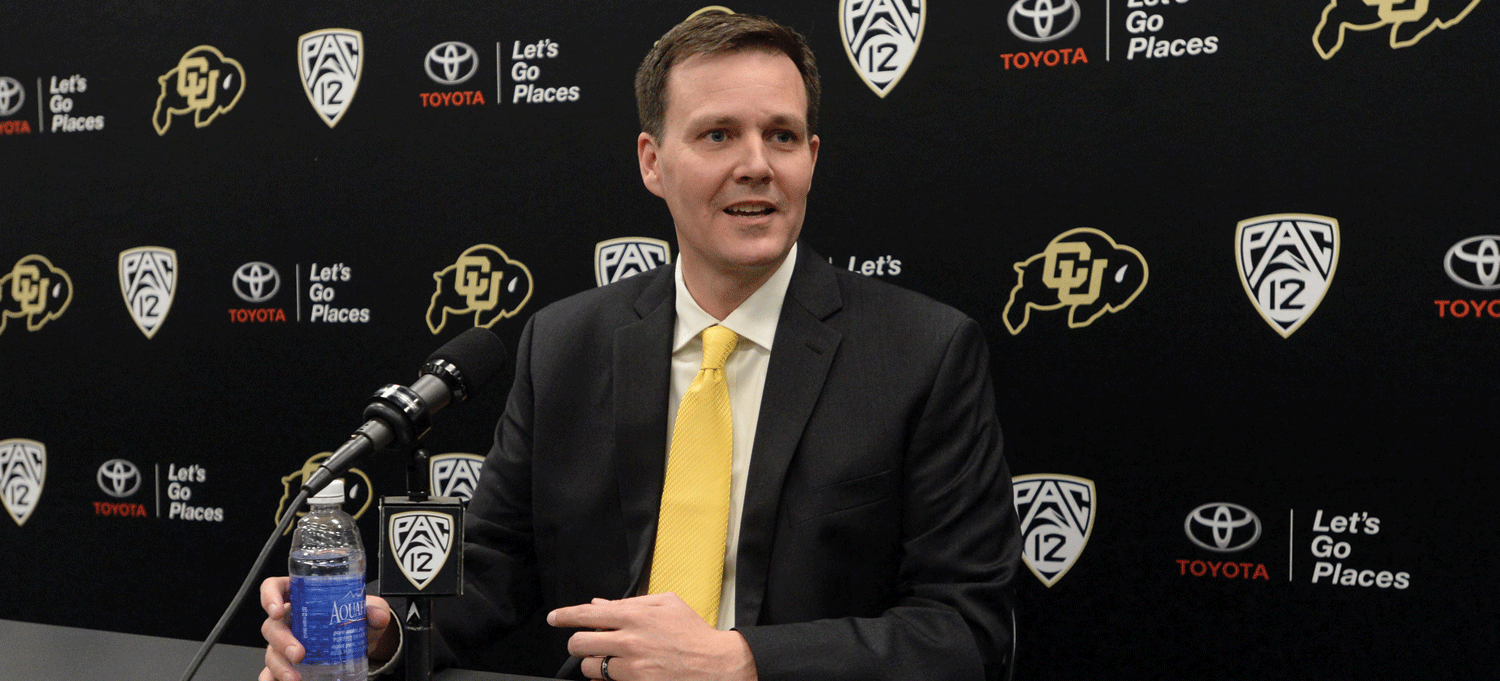 New head volleyball coach chose the sporting life over the law
Jesse Mahoney (Psych'94; Law'99) enrolled at Colorado Law with every intention of becoming an attorney. But he's made his career on the court, not in one.
"As I finished my degree, I started getting offers to coach and took a leap," says the former CU men's club volleyball champion. "I took that path for a lot less money and it all worked out in the end."
For Mahoney, the end is a new beginning in Boulder. Sixteen years after graduating from law school, he's back on campus as the fifth head coach of the Buffs women's varsity volleyball program.
He succeeds Liz Kritza, who was dismissed in early December after seven seasons in the job.
Now 44, Mahoney started his coaching career as an assistant for the CU men's club volleyball team in the mid-1990s. As a player in 1993, he helped the team to a national championship, then served as head coach from 1995 to 1998, a period when the team was consistently ranked in the top 20 nationally.
Mahoney's first varsity coaching job, in 1998, was as an assistant at Colorado Christian. Over the next 17 years, he coached at Fort Hays State in Kansas, Colorado State and the University of Denver, where he was head coach for the past four years.
The Pioneers were 88-41 under his watch, earning back-to-back Summit League regular season and tournament titles and reaching the NCAA Tournament two years running.
"When I met with our volleyball student-athletes, I told them that we would go out and hire the best coach, mentor and leader for them, and I feel like we accomplished all three," CU athletic director Rick George says. "I am excited that Jesse is back home again as a Buff."
Mahoney, who started his new job in December, also has been reacquainting himself with campus, and not just the gym.
"I walked through Norlin with the recruits the other day … The Alferd Packer Grill — no one knows that anymore, so I was explaining that."
Every day is a trip down memory lane, which may be more fun for him, he jokes, than for his coaching staff.
"My assistants are already tired of the phrase, 'When I went to school here…'"
Photo by CU Athletics