Victory Over Stanford
The CU volleyball team defeated Pac-12 rival Stanford for the first time on Oct. 18 at Coors Events Center. The Cardinal, a perennial Top-10 program, entered the contest ranked No. 6 in the nation and with an 11-4 record. The Buffs were unranked.
Led by sophomore Gabby Simpson (Comm'18), who had a career-high 25 kills, and senior Alexis Austin (Comm'16), who added 17, the Buffs ended a 14-match losing streak to Stanford.
CU nearly beat then-No. 1 Stanford in 2014, falling in five sets in Boulder.
"To finally get that win," says Austin, "it's great."
---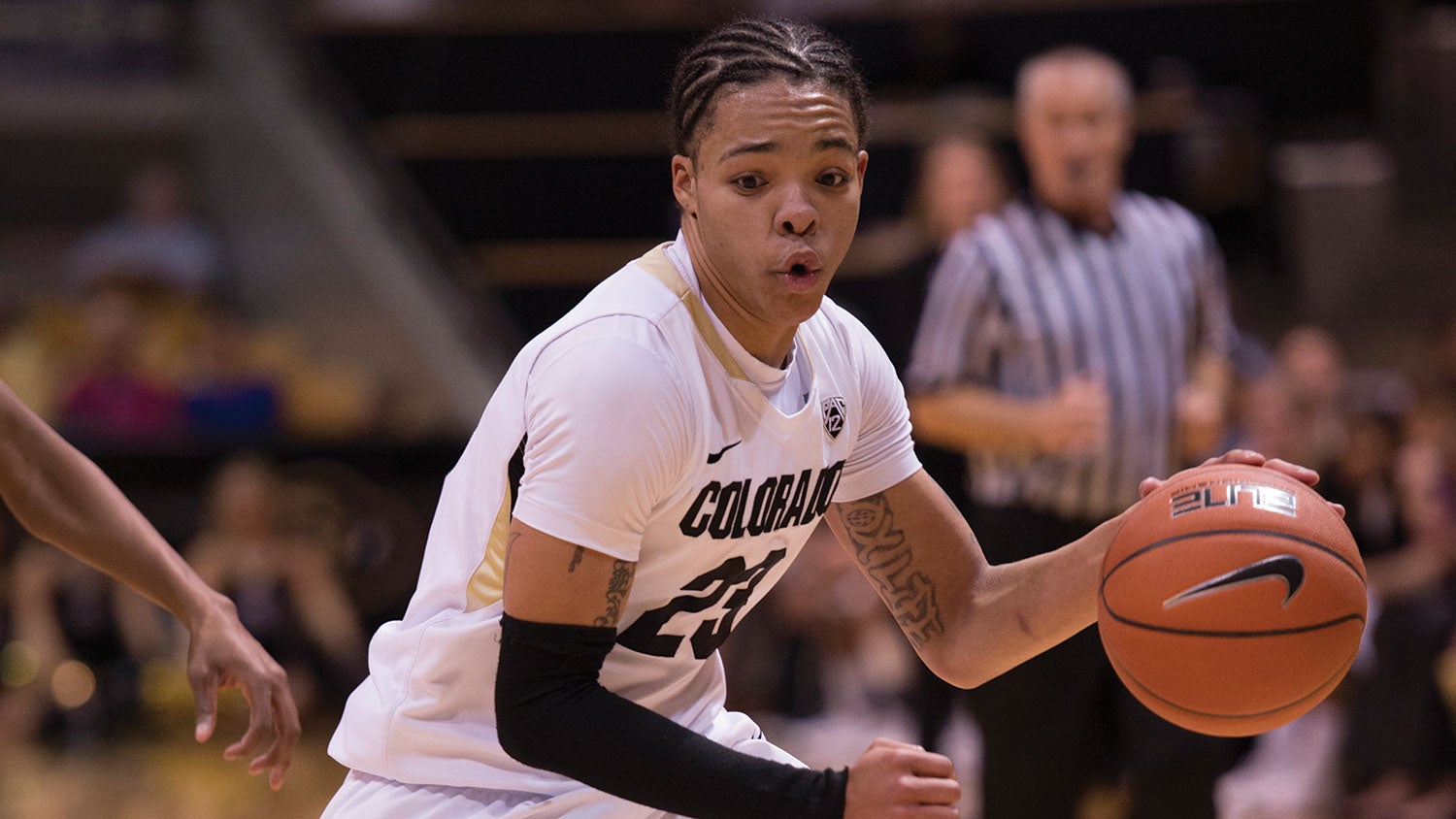 Buff Bits
The Pac-12 Conference turns 100 in December. It was founded as the Athletic Association of Western Universities in 1915. Original members include California, Oregon, Oregon State and Washington … Speaking of the Pac-12 and Oregon State, CU football beat the Beavers on Oct. 24, ending CU's 14-game conference losing streak. The Buffs held the Beavers to 13 points, the fewest they've allowed against a Pac-12 opponent since joining the conference in 2011 … Former CU women's basketball star Chucky Jeffery (Soc'13, above) signed on for a second season with ASC Sepsi SIC Sfantu Gheorghe of the Romanian Liga Nationala. In her first season with the pro team she was named a league all-star.
---
Called to the Hall
The Athletic Department announced 11 new members of the University of Colorado Athletic Hall of Fame, including basketball star Chauncey Billups (Soc ex'99). The group was honored Nov. 5 at Coors Events Center.
The latest inductees also include administrator Jon Burianek, baseball player Bill Fanning (PE'50), skier Stephan Hienzsch (Mktg'79), baseball and assistant football coach Frank Prentup, wide receiver Mike Pritchard (A&S ex'91), women's basketballer Erin Scholz (Comm'99), cross country and track standout Mark Scrutton (MCDBio'84), volleyball player Nicole Vranesh (ArchEngr'97), basketballer Scott Wedman (Bus'74) and golfer Tom Woodard (Mktg'78).
---
Photography by Dan Madden/CU Athletics