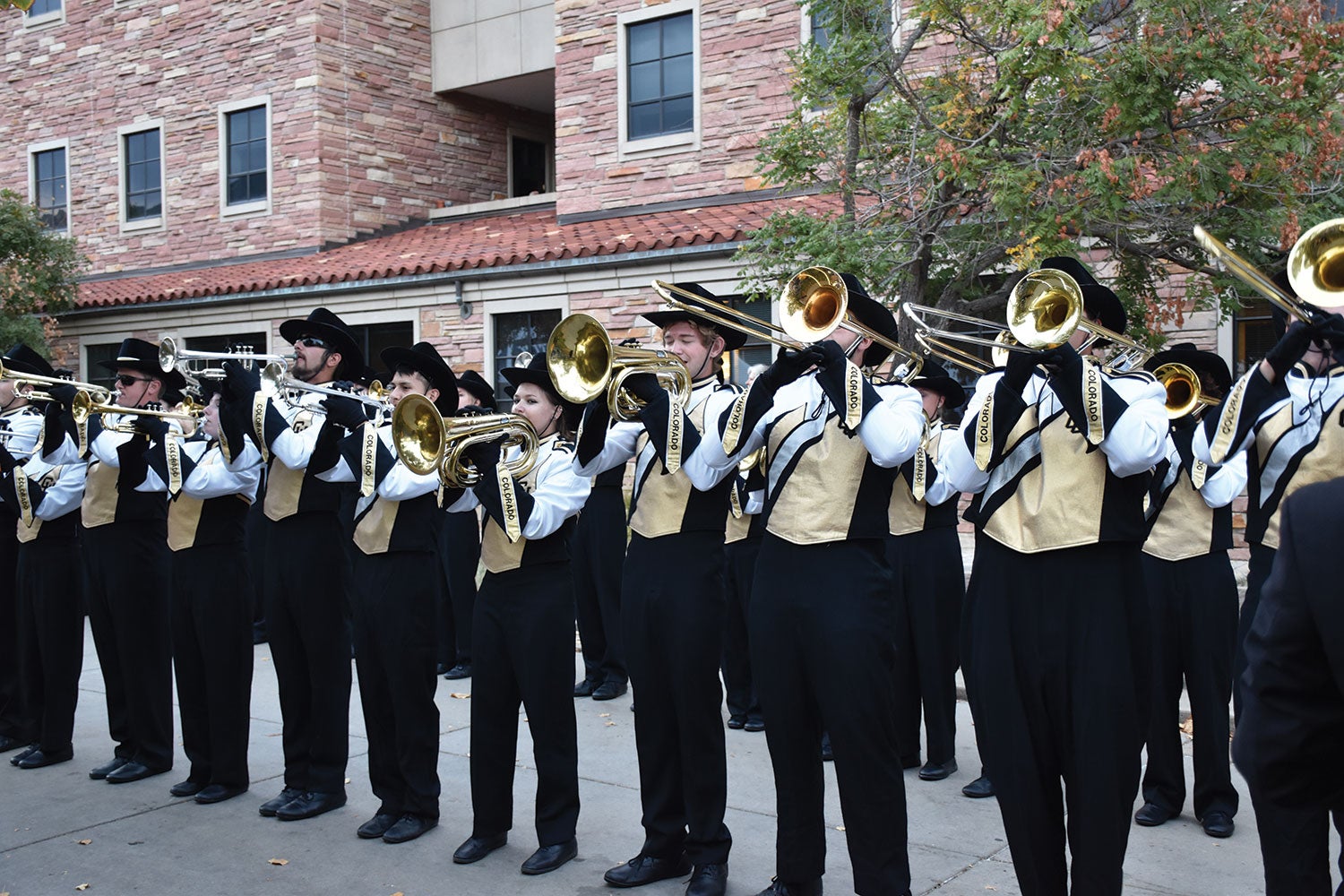 That's why former trumpeter Clyde Kennedy keeps coming back
When the CU-Boulder football team played in its first bowl game, the 1938 Cotton Bowl in Dallas, Clyde Kennedy (Acct'41) was there to make noise.
Then a freshman trumpet player in the marching band, he recalls cheering for team star Byron "Whizzer" White (A&S'38), who would go on to play in the NFL and serve as a U.S. Supreme Court Justice.
Seventy-eight years later, Kennedy recounted that story and others of bygone CU days at Boulder's St. Julien Hotel. At 96, he was the oldest attendee of Homecoming Weekend's Golden Anniversary Club reunion.
"I started going in 1991 for my 50-year reunion," Kennedy says. "I've gone every year since."
The reunion, for alumni in classes of 50 or more years ago, was one of many events attended by hundreds of Buffs for Homecoming 2015, held Oct. 15-18.
As a student, Kennedy went to every football game, was involved in fraternity life (Phi Kappa Tau) and took dates to The Sink with his $10 monthly allowance.
"I probably didn't study as hard as I should have," says Kennedy, a retired banker. "But I made it."
He and wife Marie, who met in London during World War II, took turns driving to Homecoming from home in Granada, Colo., east of Pueblo.
At Boulder, they found a crowd. More than 300 attended the annual Alumni Association Awards Ceremony alone, and Pearl Street brimmed with Buffs during the Homecoming parade and pep rally. Koenig Alumni Center hosted Buffs on Tap, a craft beer-tasting with alumni brewers. Fans flooded Folsom Field to support the Buffs, who lost to the Arizona Wildcats that day but rallied two weeks later against Oregon State for a Pac-12 win.
"We certainly enjoyed being there," says Kennedy.
Photography by M. Douglas Wray (marching band); Peter Burke (Clyde Kennedy)