Football is in his blood. Healing is in his heart.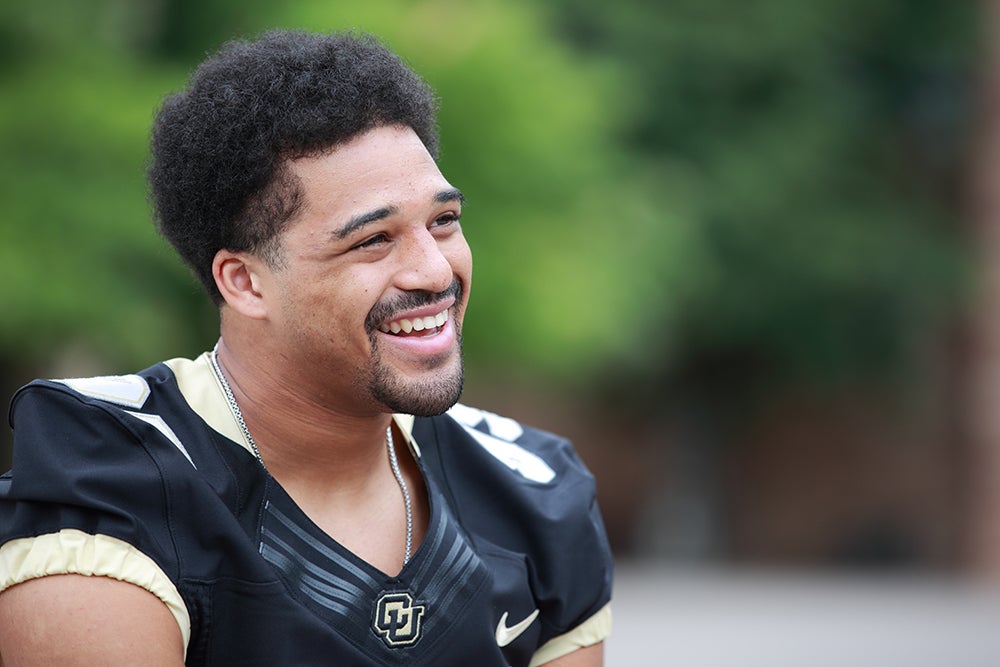 In a few weeks Derek McCartney is set to start his second season in the lineup with the University of Colorado football team. But after taking a biochemistry class this summer he's already most of the way along in his degree in integrative physiology, the closest thing to a pre-med major at CU-Boulder.
It's no small feat to be nearly finished after less than three years on campus while also making big plays on the football field. McCartney has accumulated 103 credit hours towards his degree, while student-athletes typically earn 72 in the same amount of time and non-athletes about 75, according to Kris Livingston, associate athletics director/student success.
"He has a personal desire and drive to do well, an intrinsic motivation," Livingston says of McCartney, who expects to graduate in May 2016 after seven total semesters on campus. "He has never shied away from a rigorous course load."
McCartney says he realized last fall, when he started all 12 of CU's games, just how hard it is to balance schoolwork and football.
"That was actually way tougher than I expected," he says of his first season seeing game time. "Typically I would take one thing at a time. You can't try to do it all at once. When you're at football, be at football and do your best there. When you're doing your schoolwork, focus on that and do your best there."
So far. So good.
As a redshirt freshman in 2014, the 6-foot-3, 240-pound defensive lineman from Westminster, Colorado, made 34 tackles, notched four-and-a-half sacks and shared the Lee Willard Award as the most outstanding freshman on the team.
With play like that McCartney is making a name for himself in Boulder, where his surname is already synonymous with success — his grandfather, Bill McCartney, is the legendary coach who led CU to its only national title in football in 1990.
"I don't necessarily feel pressure, just because I just feel like it's a cool opportunity for me to be here in general," Derek says of playing for his grandfather's former team. "I'm just trying to … bring the program back to where my grandpa had it. A chance to be a part of that is really cool."
Bill McCartney, who announced his retirement in 1994, days before Derek's first birthday, will surely be proud whether or not the Buffs return to dominance on the football field. Derek, 21, has already overcome so much.
Since Derek started at CU in January 2013, his grandmother and longtime girlfriend have both died. Lyndi McCartney, Bill's wife, died in May 2013 after battling emphysema. Derek lived next door to his grandparents, starting in fifth grade. Then, in January 2014, McCartney's high school sweetheart, Kaylee McBeth, died of a heart tumor.
"I think about them almost every day," says Derek. "When I'm praying, I'm thinking about them. They're definitely still a part of my life. They shaped who I am today. I'm really thankful for them and for who they were in my life. And really grateful for the opportunity to know them both."
Last year McCartney won CU's Clancy A. Herbst, Jr., Student-Athlete Achievement Award in April for thriving in the classroom and on the gridiron despite heart-wrenching distractions.
He's got talent, focus, drive — and clear goals in mind.
"If I get a chance to go to the NFL that would be a dream come true," he says. "That's the No. 1 goal: To keep playing football as long as I can and be healthy, too. Because I love football."
If the NFL doesn't call, McCartney has a Plan B he's just as excited about.
"I just have always wanted to be a doctor," he says.