Fastest Mile
Fastest Mile Senior Jake Hurysz (Comm'15) in February broke the CU record for fastest mile with a time of 3 minutes, 58.13 seconds, finishing fifth at the Husky Classic, an indoor track meet in Seattle. Former Buff Stephen Pifer (Geol'08) held the previous record of 3:59.55.
"I really wanted a school record, and the guys that have come through this program, it makes it kind of a big deal for me," says Hurysz, of Mebane, N.C.
After subsequently finishing the mile in 3:59.93 in the preliminary round of March's NCAA Indoor Championships, Hurysz became the only Buff to run two sub-4-minute miles in a CU uniform.
Read a full story about Hurysz's record-breaking race at the Husky Classic.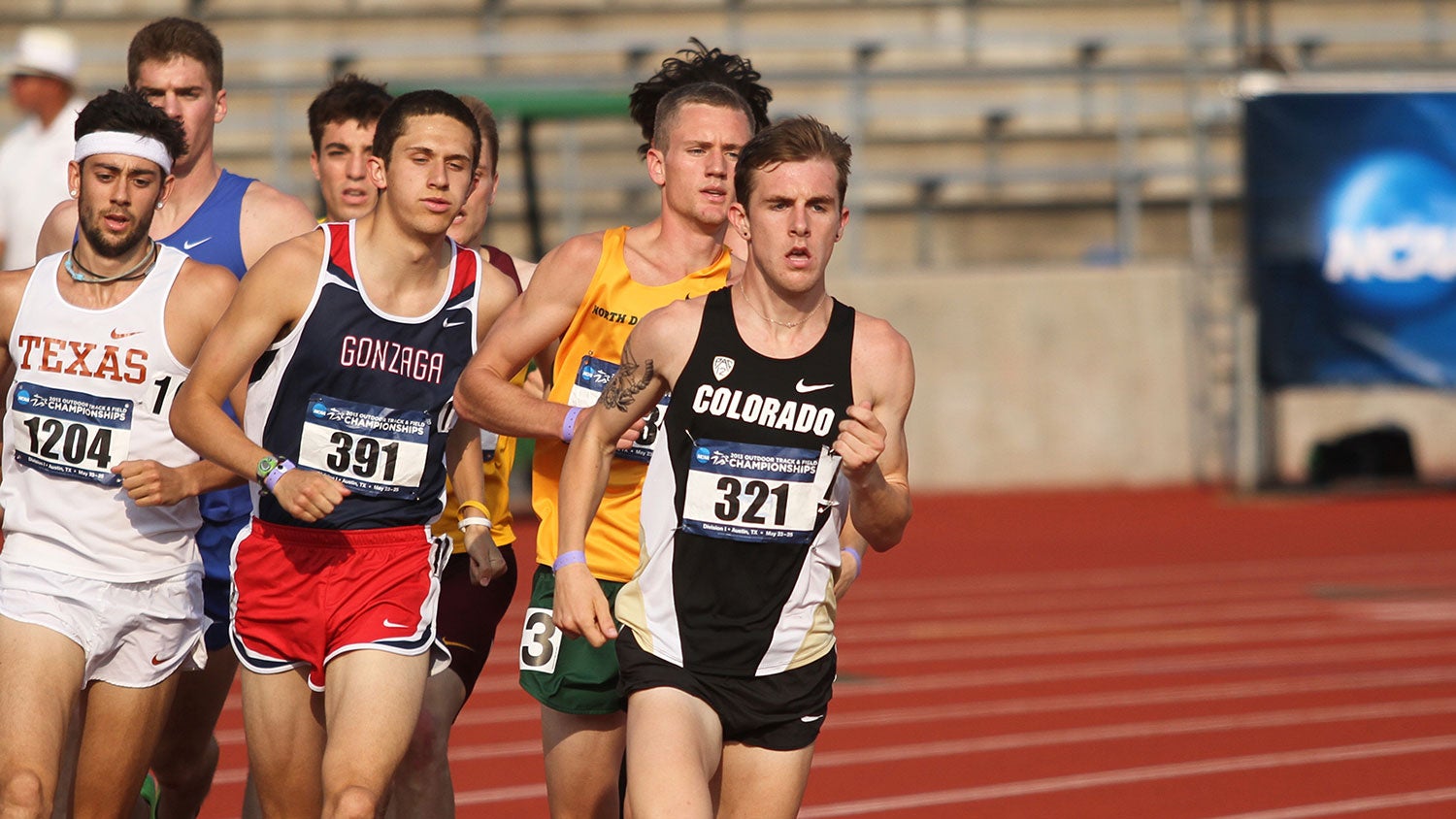 ---
On the Links
The women's golf team finished fifth at the Pac-12 Championships, its best result since joining the conference four years ago. The Buffs hosted the tournament at Boulder Country Club April 20-22.
In the final round, Alexis Keating (Comm, Edu'16) shot a 5-under 66, the lowest score recorded on a par-71 course in CU history. She finished fifth.
Esther Lee (Anth'17) finished 12th overall and was named First-Team All-Pac-12, a first for a member of the CU women's golf team, for an outstanding season that included nine top-15 finishes in 10 events. Lee also fired a CU-record, three-round total of 206 (67-67-72) to earn her first collegiate tournament victory in March.
---
Early Exits
The Colorado men's basketball team wrapped up the 2014-15 season with a March appearance in the College Basketball Invitational. With 23 points and 15 rebounds from Josh Scott (Soc'16) the Buffs won their tournament opener at home against Gardner Webb University, 87-78. The Buffs' season ended in the next round with a 72-65 road loss to Seattle University. Senior Askia Booker  (Comm'15) opted not to participate in the tournament. Sophomores Jaron Hopkins and Dustin Thomas (both Comm ex'17) have left the program.
CU women's basketball also will be without one of its stars when the 2015-16 season starts: Forward Arielle Roberson (Comm'15) graduated in May and skipped her final season of eligibility. Roberson, a two-time honorable mention All-Pac-12 Conference selection, missed two full seasons due to injury.
---
Photo courtesy CU Athletics