Buff Tidbits
German native Jeremy Paul shared golf medalist honors at the Oregon Duck Invitational, becoming just the second freshman in program history to win a tournament, joining Tobias Forsgren (A&S ex'03). Mike Ricci, who coached the CU triathlon team to four collegiate national titles before resigning in 2013, was named the USA Triathlon Coach of the Year. Freshman Ben Saarel posted CU's top finish at the NCAA Indoor Track Championships, placing third in the 3,000. With the addition of recruit Gabby Simpson from Colorado Springs, the CU volleyball team will include three sisters (joining Taylor and Cierra) on the active roster for the first time in history.
---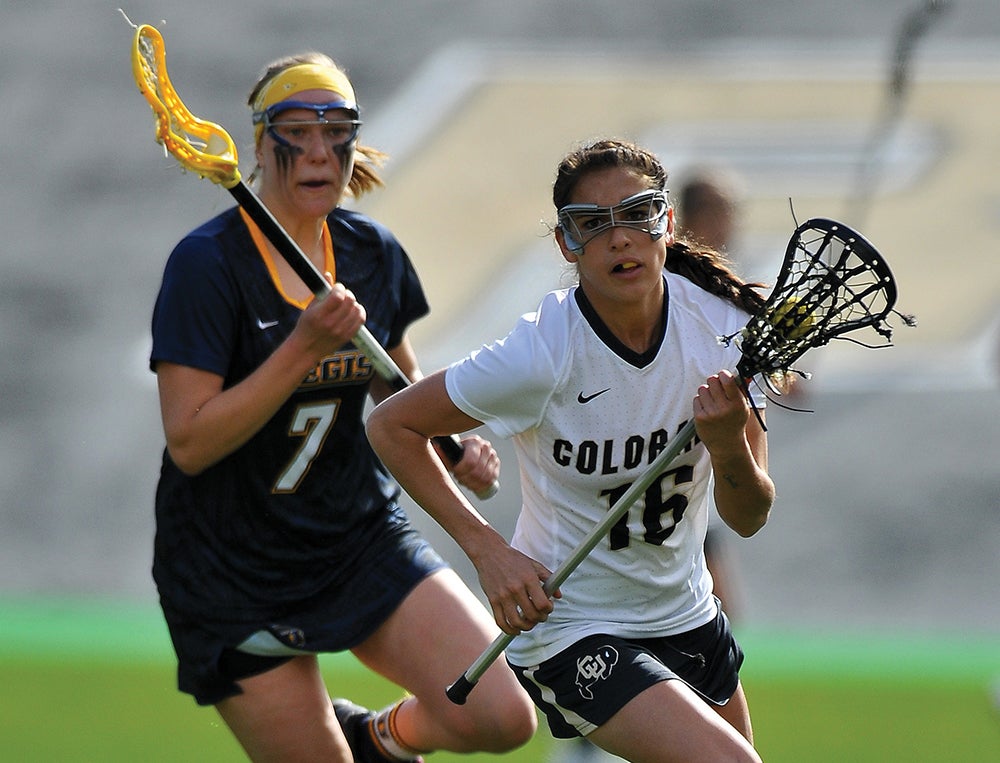 CU A Winner in Inaugural Lacrosse Season
Intercollegiate Division I sports programs tend to struggle somewhat when thrown into the deep end in their inaugural seasons, but the CU women's lacrosse team avoided many of the growing pains. Head coach Ann Elliott's Buffs finished with a winning record (11-8), notching four one-goal victories in roughly the last third of the season. In one weekend in April, sophomore Sarah Lautman scored two game-winners in overtime.
---
Boyle's Hoopsters Keep Rolling
Despite losing top scorer Spencer Dinwiddie to a season-ending knee injury in January, the men's basketball team qualified for its third consecutive NCAA Tournament, an unprecedented feat in program history. The Buffs (23-12) won at least 20 games for the fourth straight season under coach Tad Boyle and have racked up 92 victories, the most over a four-year span in team history. Josh Scott, a sophomore from Monument, Colo., earned first-team All-Pac-12 honors. While Dinwiddie will skip his senior season to go to the NBA, the future looks promising as Scott and the rest of the team will return. Dominique Collier, an incoming freshman from Denver East, earned MVP honors in April at The Show All-Star game at the Pepsi Center.
---
Photography courtesy CU Athletics