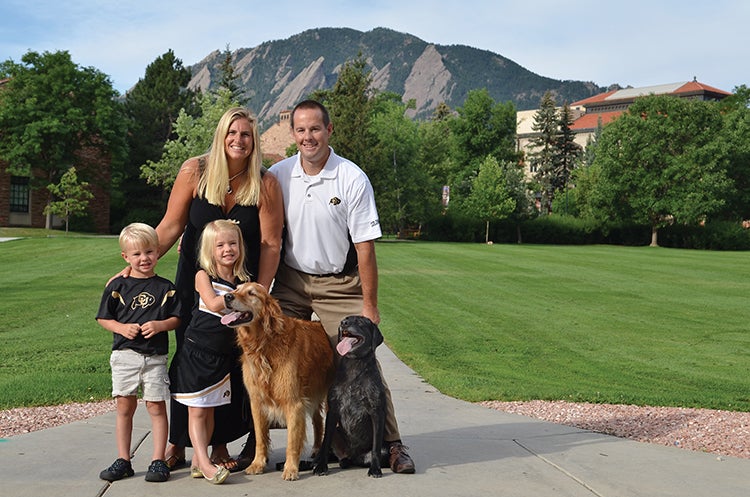 After helping recruit 80,000 undergrads to campus since 1997, Ryan Chreist (Kines'96, MPubAd'09) tackles a new job — executive director of the CU-Boulder Alumni Association.
In his high school darkroom in New Mexico, Ryan Chreist (Kines'96, MPubAd'09) examined images developing on the photographic paper hanging from a wire overhead. In the dim red light, CU football great Darian Hagan (Soc'01) slowly came into focus as did Eric Bieniemy (Soc'01). Like magic, other players from the 1990 National Championship team appeared before his eyes.
Chreist, pronounced "Crist," didn't realize he was gazing at photographs from the Buffs vs. Notre Dame game at the Orange Bowl in Miami. He just recognized the players as Buffs. He found out later his classmate had taken the photos at the game.
But it is a moment he feels inextricably tied his fate to CU-Boulder. Months later the Albuquerque native moved into Farrand Hall to start his freshman year, kick-starting a love affair with the university that led to a 16-year career in CU-Boulder's admissions office. In July Chreist, 39, took the reins as executive director of the Alumni Association. He succeeds Ron Stump who held the post on an interim basis when Deborah Fowlkes left after serving from 2010-13.
With black and gold dogs, wife Liz Bacon Chreist (ComDisor'98) — whom he met on a Vail chairlift while skiing in 2001 — and years of experience with alumni, parents and students around the world, it's hard to imagine a better fit.
"Ryan's background in admissions has given him a truly global understanding of CU-Boulder's appeal to students, parents and alumni," says Frances Draper, vice chancellor for strategic relations.
"His skills in relationship management, as well as his talent for public outreach and engagement, will make him a great ambassador for the university and to our alums."
Chreist most recently oversaw staffs responsible for the recruitment of prospective students in the United States and internationally, the implementation and integration of admissions' IT systems and for processing all undergraduate and graduate applications.
But he has worn dozens of hats, from counselor to associate director, in an office where he began working shortly after graduation. He figured he would stay for a couple for years. He never left.
"Working in admissions made it easy to stay [at the university]," Chreist says. "I believe in the institution, so it was easy to talk to people about the incredible education, the really exciting community you are a part of and the value of the education."
Sharing his passion for CU-Boulder meant hitting the road to far-flung places like Vietnam and Indonesia as well as up and down the West and East Coasts and nearly every major market in between. There were car accidents in taxis, hundreds of flights and nights when he tried to enter the wrong hotel room, mixing the room number up with the previous night's stay.
He also ran into many CU alumni, reconnecting them to a place that helped shape them in deeply meaningful ways. One high school guidance counselor in Jakarta, Indonesia, rushed across the room when he entered, noting, as an alumna, she had been waiting all day for him to talk about CU-Boulder.
"The four years you spend here are some of the most memorable in your life," Chreist says. "Why not help people connect with them again?"
Helping alumni reconnect to the university, from an admissions perspective, means more than just sharing memories, though. It also means creating an army of volunteers to recruit prospective students. Chreist coordinated the National Alumni Admissions Assistance Program (NAAAP), which involves hundreds of alumni in recruiting prospective students.
Admissions director Kevin MacLennan says he has yet to meet someone who doesn't enjoy working with Chreist and benefiting from the expertice he brings to projects, conversations and plans.
"Ryan has great vision, but he also rolls up his sleeves," MacLennan says. "If something is important to reach the organization's goals, he is the first one to step up. I am so proud of him."
At the Alumni Association Chreist will lead the Forever Buffs initiative that includes 30,000 students and 250,000 alumni, building affinity with the university from the moment students set foot on campus. He will harness CU pride to get more Forever Buffs involved with one another and the life of the university. The post oversees an alumni staff of 25 and leads all alumni operations, communications and events planning.
"It is an honor to continue to serve the University of Colorado Boulder and the hundreds of thousands of people who have come through its doors," says Chreist, a 2012 recipient of the Alumni Association's Robert L. Stearns Award recognizing faculty and staff for extraordinary achievement.
"I look forward to continuing to engage our alumni locally and in the far reaches of the world to help them stay connected to their CU-Boulder experience."
Tori Peglar (MJour'00) is editor of the Coloradan.
Q&A
As new executive director of the Alumni Association, Ryan Chreist (Kines'96, MPubAd'09) shares his thoughts.
What are your favorite things to do when you are not at work?
Spend time with my family and be outdoors enjoying Colorado.
What book are you reading now?
I am reading the 2007 novel A Thousand Splendid Suns by Khaled Hosseini and I just finished El Narco: Inside Mexico's Criminal Insurgency by Ioan Grillo. They are completely different but both great.
If you could pick any hero from history to meet, who would it be?
Helen Keller, someone who remained so positive and inspirational in such a challenging life situation
What qualities do you value most in people?
Honesty and empathy
What human qualities are the ugliest?
It's a tie — anger, intolerance and lack of personal responsibility.
What is your favorite expression or quote?
Treat others as you would like to be treated.
If you could speak any language, what would it be?
Spanish. I took German and Spanish and I am not proficient in either.
You have served as a volunteer firefighter and emergency medical technician with the Louisville Fire Protection District since 2002. Why?
I like to help people and give back to my community. I also enjoy the adrenaline rush you feel when you come into a challenging situation and try to make it better for those involved.
What is one lesson you have learned as a parent?
There is not a manual, so you are going to make some mistakes. I just want to do the best job I can, so my kids grow up to be wonderful people.
What is your favorite food?
Anything with New Mexico green chili, preferably hot. Why people outside New Mexico have not embraced it is a mystery to me. I will put it on just about anything!
Photo courtesy Glenn Asakawa