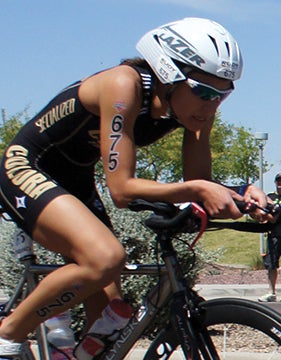 Follow the Herd
Former CU football player Jeremy Bloom (A&S ex'06) was inducted into the U.S. Ski and Snowboard Hall of Fame April 13.
Emily Talley(Comm'12) appeared on Golf Channel's reality show Big Break Mexico, competing against 12 golf pros.
H.B. "Bebe" Lee, who coached CU to the basketball Final Four in 1955, died March 31.
Chuck Fairbanks, CU football coach from 1979-81, passed away
April 2 after battling brain cancer.
It came right down to the wire, but the CU triathlon team extended its streak of consecutive national titles to four with its victory in April at the USA Triathlon Collegiate National Championships in Tempe, Ariz.
The Buffs edged Cal-Berkeley by a mere two points, 3,926 to 3,924. CU won the men's division by 60 over the Bears, while the Colorado women placed second, finishing 58 points behind Cal. In all, 1,015 athletes representing 108 schools competed in the Olympic-distance race.
"Winning has always been secondary to this team and it's just the cherry on top of what we are trying to teach the team about being responsible, hardworking leaders," says head coach Mike Ricci.
Michelle Mehnert, a graduate student in her first season competing for CU after graduating from the University of Illinois — and swimming for the Illini — won the women's Olympic-distance race in 2:01:13. That was 75 seconds ahead of her nearest competition.
The CU men placed three athletes in the top eight, led by Rodolphe Von Berg who ended up fourth.
Meanwhile, the CU swimming and diving club team also won a national title in April, claiming its third straight. The Buffs prevailed in both the men's and women's divisions.
Kate Booth placed second in the women's individual scores as CU put four competitors in the top five. Bryan Bonack led the CU men, finishing fourth in the male individual scores.