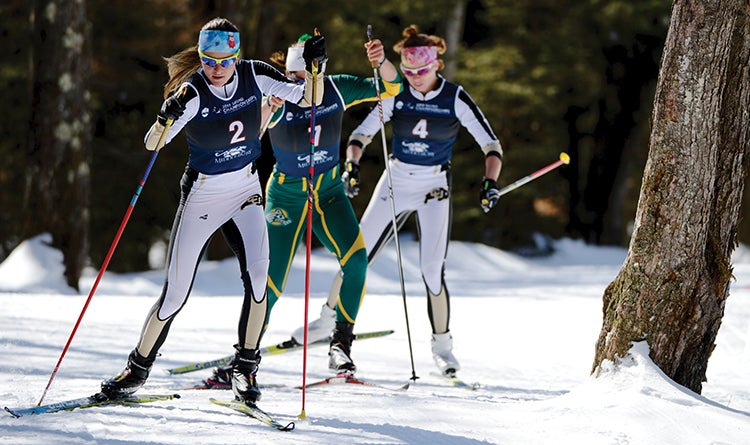 The CU ski team rallied in a big way on the final day of the NCAA Championships in Vermont to claim its 19th national title in the sport and second in the last three years. Seven of those 19 championships have come under head coach Richard Rokos, who tied former ski coach Bill Marolt (Bus'67), who later served as athletic director.
"That was my goal originally, to reach what Marolt accomplished in seven years," Rokos says jokingly. "It took 23 years, but you know, seven isn't my lucky number, so I'll keep going."
Down 54 points entering the final day, the Buffs posted the biggest final-day comeback by a champion in NCAA finals history.
Senior Joanne Reid won the women's 15K Nordic freestyle, followed immediately by teammate Eliska Hajkova. Rune Oedegaard helped in the men's 20K Nordic freestyle with a runner-up showing. Earlier in the meet, he won the 10K Nordic Classical event.
Reid's mother, onetime speed-skating and cycling world champion Beth Heiden, won an NCAA cross country ski title for Vermont in 1983.
The NCAA national title was CU's 25th overall, with five in cross country and one in football.
That weekend men's golf claimed a team championship at the Bandon Dunes tournament, tennis won its first Pac-12 dual and in track Emma Coburn clinched CU's first NCAA indoor mile title.
Photo courtesy Colorado Athletics