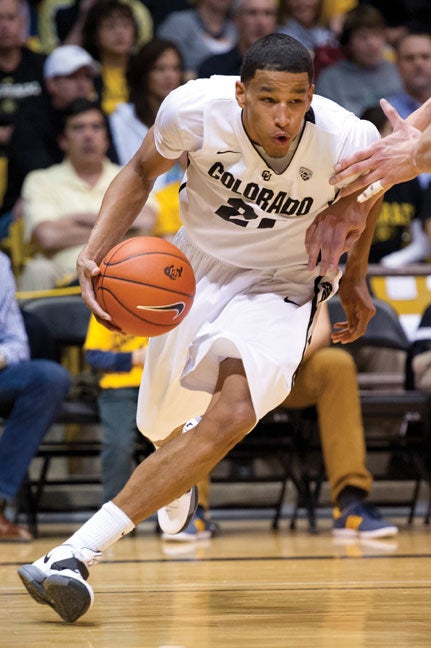 André Roberson, a junior forward, set the CU's single-season record for rebounds with 401 and ranked fifth nationally with 20 double-doubles (points-rebounds) last season. The first player signed by coach Tad Boyle, he's led the Buffs in rebounds, blocks and steals the past two years.
How special is it to be part of a big turnaround for a program that's had only three other 20-win seasons since 1970?
It's very special. It shows how hard work pays off. To be one of the better teams in the history of Colorado basketball is great.
After what many people considered an NCAA Tournament snub the previous year — and then losing several key players — how satisfying was it winning the Pac-12 tournament and going to the NCAA tournament in 2012?
I like being the underdog. I feel like I've been an underdog my whole life. We want to prove everyone wrong. Last season everyone had a chip on his shoulder. Carlon [Brown] and the freshmen stepped up.
You were the third-best rebounder in the country last season, with an 11.1 per-game average. What's the key to your rebounding success?
You've got to want it. That and instinct. And you've got to have consistent effort in crashing the boards. My athleticism and [7-foot] wingspan definitely help out, and I'm hard to box out.
How important were the exhibition games you played during the team's European trip in August?
They had a big effect and gave us a little chemistry and off-the-court bonding. It also was a little head start for us. The past few seasons, we've started slow. We wanted to get off from the jump this year.
Tell me the difference coach Tad Boyle has made for the team?
He's a great coach, a player's coach. He puts the best five out there no matter what. He doesn't play favorites. And he gives you the freedom to play.
Given what the team has accomplished (48-26 record) the last couple of years, what's the goal this season?
This year we want to take it a step further and win the Pac-12 [regular-season title]. We've got a better team this year. If they pick us fifth or sixth [in the conference], we want to prove everybody wrong. I feel like Colorado basketball doesn't get enough credit.
Do you take more pride in rebounding and blocked shots and those sort of things than in scoring?
I feel like I do. Everybody is worried about scoring. They're not worried about the other aspects of game.
How do you feel about your sister Arielle going to school here and playing for the CU women's team?
It's cool. When you're so far away from family, it's nice to have someone here. And you get an occasional meal, too.
Why has the team been so successful at home, 32-4 under Boyle, the best two-year span in program history?
The (mile-high) altitude definitely helps, and we have that feeling to protect our court. Fan support is a big part of our success. Everyone wants to do good for the fans.