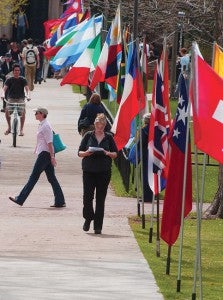 Plan your trip to Boulder this spring to attend exciting and informative panels, plenaries and performances at this year's 65th annual Conference on World Affairs April 8-12. The best part? It's free and open to the public.
Started in 1948 by late sociology professor Howard Higman (Art'31, MSoc'42),  panelists have included Eleanor Roosevelt, film critic Roger Ebert, vice president Joe Biden, jazz singer Lillian Bouté and broadcast journalist Maria Hinojosa.
"At a time when famous speakers can pull down $10,000 to $25,000 for an hour's work, this would seem like an offer they could refuse."
— Film critic Roger Ebert, one of the conference's longstanding superstars, referring to the CWA panelists in his introduction to the co-authored 1998 book Higman: A Collection (Thomas Berryhill Press)
Join the festivities with an eclectic group of 100 speakers and performers as they spark conversation and debate by addressing hot topics related to technology, arts, international affairs, medicine, media, science, the environment and politics.
Seven Intriguing Panels from 2012
Coming Home: The Wounds of War
From Arab Spring to Nuclear Winter
No Future for Millennials: Even Your Parents Think You're Screwed
Reality TV: Wife Swap to Weight Loss
The Myth of American Exceptionalism
How Jews and Gays Built Hollywood
Is Anybody Normal?
Panelist Particulars
Cannot be Colorado residents
Housed by Boulder families
Never paid
Transported by students to and from the airport
For conference details and the schedule, visit www.colorado.edu/cwa. The schedule will be finalized in March. Hotel Boulderado offers discounts to those who attend the CWA.