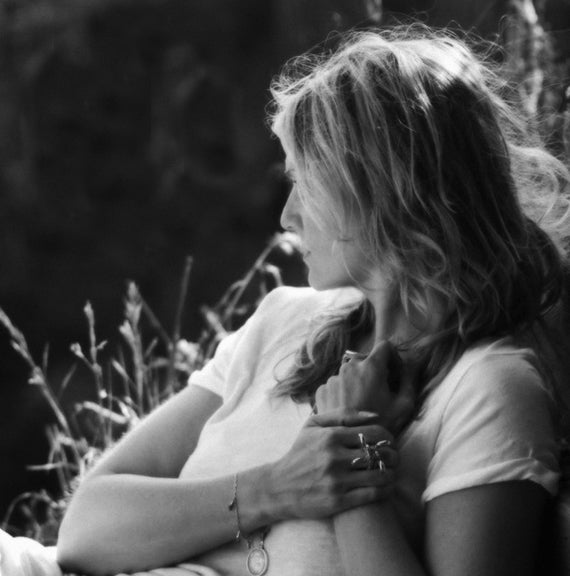 Ancient Greeks believed the gemstone heliodor contained the power and warmth of the sun, and to jewelry designer Winifred Adams (Fren'96), her one-of-a-kind heliodor "King Crown Ring" certainly makes a powerful impression. The finger-sized gold coronet features a nearly 10-carat yellow heliodor surrounded by eight shimmering diamonds.
"The meaning of this piece — the first in the Golden AgeTM series — is to take the personal will of someone and transmute it into 'I am willing for the greater good of all,' " Winifred says.
For Winifred the meaning of the materials she uses is as important as the aesthetics.
"Each stone is made up of minerals that affect different organ systems in the body," she explains. "It's about wellness, health and healing — making the person feel better by balancing [his or her] energies."
The Malibu, Calif., based designer sells her work in boutiques, at shows and online, and although she produces a ready-to-wear line, she also creates custom pieces. She "tests" people with stones to find the right match, she says, and then uses a tuning bowl to adjust stones to the perfect healing frequency for their wearer.
Winifred knows what she does may sound like "woo-woo" to some, but she says her approach to design harkens from ancient teachings that also influence her work as a professional herbalist and practitioner of other alternative healing techniques.
Winifred got her start as a designer while a student at CU-Boulder. A boyfriend gave her a bracelet made of crystal beads, and when she broke the strand, she went to a bead shop for help.
"I fell in love with the stones," she recalls. "It's the meaning. It's the energy. They're alive."
Theresa Porto of Agoura Hills, Calif., owns a pair of Winifred's teardrop earrings featuring apatite, a gemstone known for its cleansing influence. She says she never takes them off.
"I found that when I started wearing [Winifred's] jewelry, people tended to tell me my face looked different — brighter. They noticed a difference in the energy in my face. I just thought I was wearing a pretty pair of earrings."
That's exactly the reaction Winifred hopes for.
"I create beauty to bring meaning, to bring [people] to a deeper understanding in their lives," Winifred says. "I'm interested in people, in them growing, in evolving and being their best. If I can facilitate that, that's what drives me."
See her designs at www.designsbywinifred.com