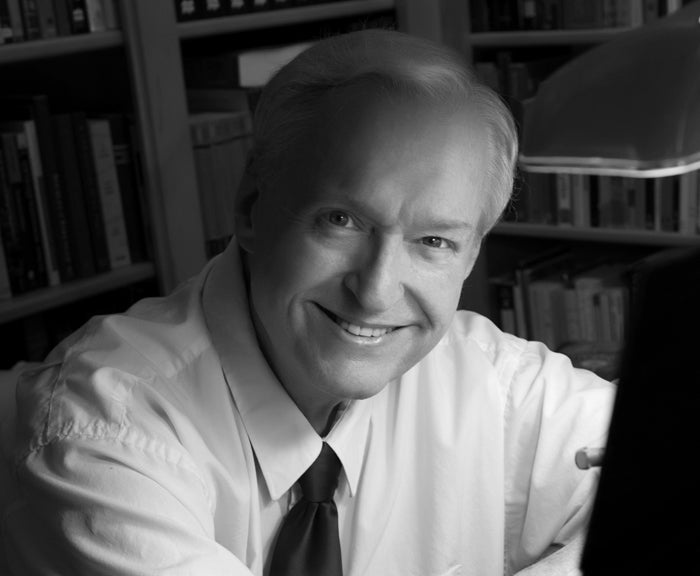 On May 22, 2011, in only 35 minutes, one-third of Joplin, Mo., was destroyed. Winds peaked at 250 miles per hour, reaching a maximum width of one mile. The Joplin tornado led to 161 deaths and the destruction of more than 8,000 buildings. During the recovery of Joplin's tragedy, composer Hubert Bird (DMus'77) found a way to bring the community together.
"It started when they showed a boy who was killed in the tornado on the news," Hubert says. "He had just graduated high school that day and he had his whole life ahead of him. The image of the boy on the television haunted me."
Two weeks later, Hubert visited Joplin to find a third of the once thriving town had become miles of open land. He wanted to contribute to the rebuilding efforts but could not offer money. When Hubert returned home he called his good friend Bryan Shelburne, the former conductor of the U.S. Army Chorus and U.S. Army Band. After Hubert described how horrified he was, Bryan told him there was work for him to do in Joplin.
A light bulb turned on, and Hubert met with the president of Joplin's Chamber of Commerce, Rob O'Brian, to offer to orchestrate a concert. Rob told him it was an excellent idea and exactly what Joplin needed.
Hubert gathered his professional musician friends to create a symphony orchestra of 50, a 50-person children's choir, plus a 150-voice concert choir of high school students representing five area school districts. His daughter and CU-Boulder assistant professor of voice Jennifer Bird-Arvidsson and her husband Björn Arvidsson, both opera and concert singers, agreed to be the primary soloists and Bryan agreed to be conductor. Hubert began writing the music last September.
"Writing the music was an intense, technical and creative process," Hubert says.
He worked on the composition and narrative every day from 7 a.m. to sometimes 2 a.m. to make sure every note was perfect for each separate instrument and voice-part.
On May 12, 2,000 people arrived at Joplin's Memorial Hall for the 50-minute concert narrative. The performance successfully gathered citizens en masse, exemplifying the participation and togetherness Joplin has relied on to rebuild its town and community.
"I cannot express enough how this concert is an example of business and the arts working together to develop a significant composition that can be enjoyed for many years to come," Hubert says.
Hubert continues to do what he loves, composing music. He wrote all of the musical arrangements for Lyricora, a New England choral ensemble recording a CD with Naxos Records. You can hear it at www.lyricora.org.