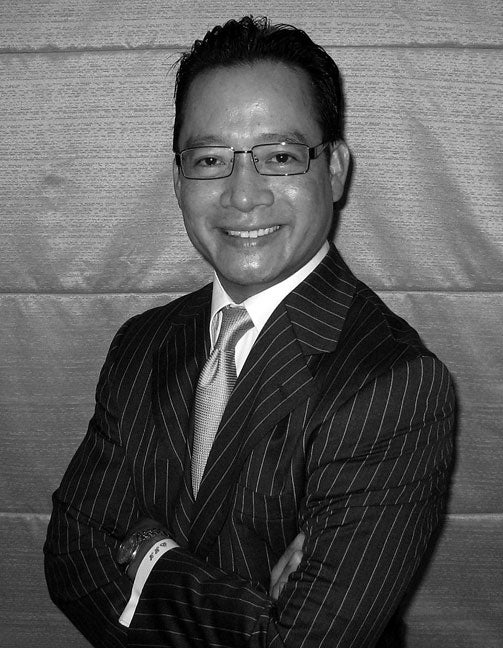 One of Son Nam Nguyen's (Fin'90) childhood memories is collecting cans off the inner-city streets of Denver to sell for cash when he was 10.
"My father found out and screamed at me about how that was wrong," Son says. "He said I should be studying. My dad forced us to study and read. And for me, as I read, I dreamed of having a better life."
Son clearly knew life could be better. His earliest memory is at age 5, leaving war-torn Vietnam in 1975 with his father, mother and five siblings in an overcrowded boat, many others drowning during the exodus.
But even after landing in Denver, life remained difficult. His family couldn't afford rent. They lived in the projects off Federal Boulevard. Little Son just wanted to help.
His dad, Loc, held two full-time jobs, one as a janitor and the other mowing lawns. On weekends, Loc started mowing by 7 a.m. and finished at sunset — 20 to 25 lawns a day. Weekdays were busier, mowing from 6 a.m. to 1 p.m. and then janitor work from 3 p.m. to 11 p.m.
"He did this every day for 10 years," Son says. "They worked and saved, so we could focus on our education. It broke my heart."
But today Son's heart is healed. After CU-Boulder and Harvard Business School he worked as an investment banker on Wall Street and in Hong Kong before returning to Vietnam because he says it's in a growth phase with plenty of room for entrepreneurial progress. In 2009 he started Vietnam Capital Partners, an investment bank, and travels the world advising leaders of multi-billion-dollar companies on restructuring and other high-level financial issues.
Son built his parents a home in a gated community near Denver. Loc continued mowing lawns for a while, even after getting the house.
"That's my dad," Son says. "We did tell him he couldn't mow the neighbors' lawns, which he didn't."
Today you'll often find Loc still outside but working on a flower garden in his own yard. He has an obvious knack for raising beautiful plants — and children.
For Son, it's simply about returning the love his parents gave him.
"I owe this to their sacrifice and hard work," he says. "To me, giving back to them . . . is my greatest accomplishment."