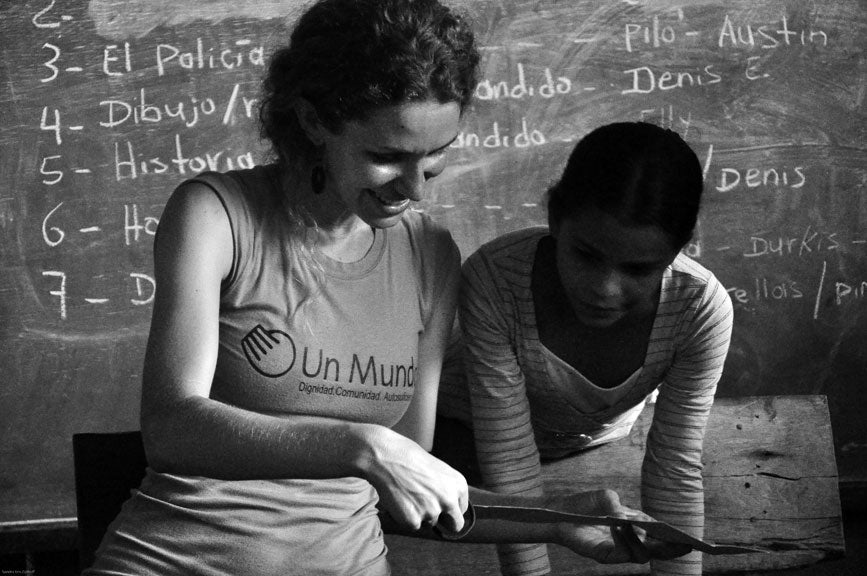 Elly Goetz (Soc'03) learned the importance of investing in herself and others while growing up. Her parents often took in children whose families needed help and taught her to invest her own resources to help others get what they needed.
These lessons solidified through her domestic and international service-learning experiences with CU-Boulder's INVST. That preparation proved critical when, just five years after graduating, Elly became executive director of Un Mundo, a Honduras-based nonprofit organization.
"By far I could not accomplish what I have with Un Mundo without my experience with INVST," says Elly, who taught English as a Second Language in Ecuador before pursuing a master's degree in urban planning.
On the recommendation of a mutual contact, the founders of Un Mundo approached her. After recent turnover, Un Mundo needed a committed leader to launch its largest project — construction of the first public high school in the region. In early 2008 she moved to the Cangrejal Valley in Honduras as Un Mundo's executive director.
Her first year brought many challenges. Elly had to meet her own basic needs constructing her office and home and acquiring running water and electricity before addressing the community's needs.
By facilitating community-driven projects, Un Mundo helps marginalized populations in Honduras feel confident, in control and empowered to improve their community. Staff and volunteers live within the communities and listen to locals identify issues.
"Many of our projects evolve from sitting around the dinner table and people asking for help," Elly says.
Current projects include a program for children with special needs and a midwife project connecting women to health care. Ultimately, locals will manage the projects.
In November 2010 the first class graduated from the high school Un Mundo helped construct. Elly is optimistic about the school's ability to transform the community by teaching skills like reading and leadership that are vital to the region's growth. Eventually, she hopes locals will run Un Mundo.
One graduate already works there helping run projects. Another is studying for her nursing entrance exam.
Elly still heeds her parents' advice to invest her own resources to help others develop the resources they lack. Undoubtedly, these investments translate to generous returns for the Cangrejal Valley, Honduras, and the world.
Visit www.unmundo.org for more information or to make a donation.