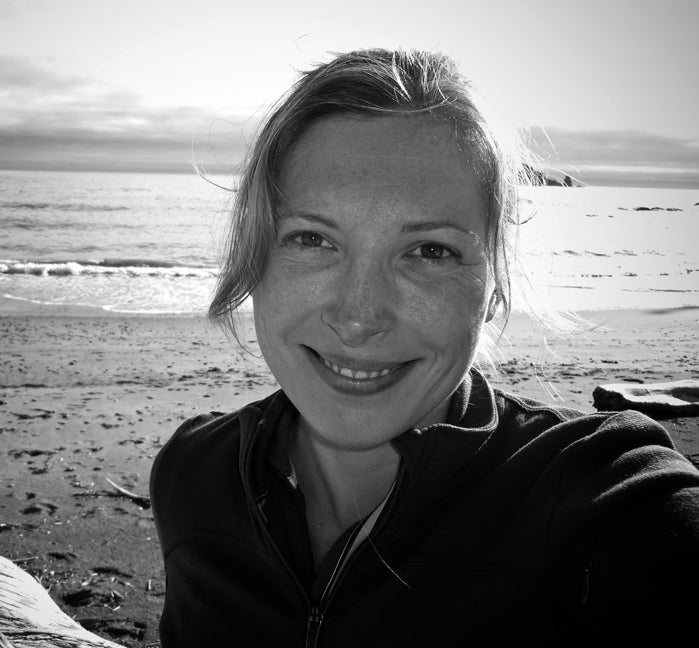 With creative fundraising and social media savvy, Morgan Heim (MJour'09) is forging a path through the jungle of modern journalism and hopes to save a few species along the way.
A zoologist turned journalist, Morgan has become a strong voice for conservation just two years out of school. She turns dry research into real-life narratives, bringing hard science to the masses through writing, photography and video.
As a conservation journalist privy to a seemingly inexhaustible supply of stories, Morgan created Ecoleads, a website providing story ideas, resources and connections to science journalists.
Originally Morgan wanted to be a scientist. But while working as a fisheries ecologist in the Pacific Northwest a few summers ago, she saw the need to raise awareness about environmental issues she was witnessing.
"With science, you learn amazing things, you do amazing things, but when it comes to telling people about it, it's often the opposite," Morgan says. "The science is so dry that it's hard to keep people engaged and that leads to misunderstandings, sometimes about really big things."
Morgan's latest project, CAT in WATER, aims to change that. This fall, Morgan and Joanna Nasar (MJour'09) will team up with a scientist in Thailand to document rare fishing cats in the wild. Little is known about these cats and their survival chances. Fewer than 10,000 exist in the wild.
Throughout the two-month trip, Morgan and Joanna will offer real-time, online reporting via blog posts, photos, videos and the opportunity for viewers to participate and ask questions. This interactive, multimedia expedition is a dream come true for Morgan.
Morgan and Joanna generated more than $10,000 for CAT in WATER through Kickstarter, an online fundraiser, in addition to support from nonprofits, gear sponsors and publications.
"It's truly humbling and encouraging there is enough interest that people will reach into their pockets and help fund a project that's going to teach us something about an animal," she says.
Morgan and Joanna didn't want to wait to get a big assignment, especially with current challenges in the journalism industry. So they went for it.
"There is greater freedom than ever to chart your own path in journalism," Morgan says. "Those challenges are also our best gift."