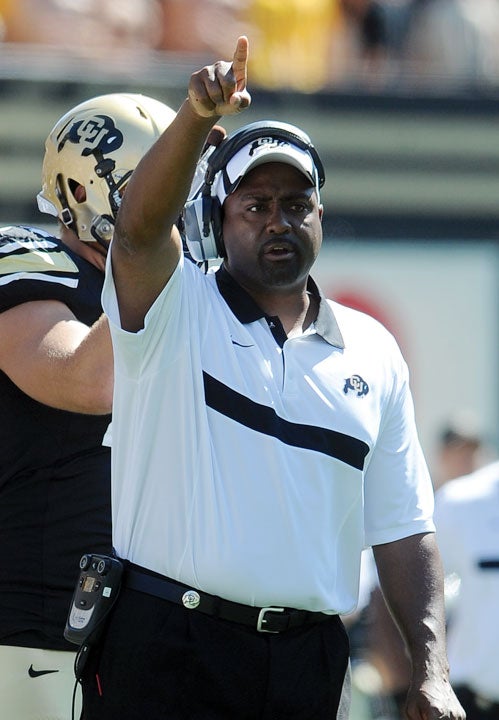 Like Bill McCartney experienced while coaching Jon Embree (Comm'88), Embree began his head coaching career at Colorado with one win in his first nine games. Facing one of the tougher schedules in the nation, Embree picked up his first coaching victory at CU in week three with a 28-14 win over rival Colorado State.
But with losses by three points in overtime to Cal and by four points to Washington State after leading by 10 with five minutes remaining and a big loss to Oregon, Embree praised fans for their support, regardless of the scoreboard.
"Obviously we're not where we'd like to be this year from a record standpoint and one of the ways for us to continue to improve is obviously recruiting," he said after the loss to Oregon.
"That's the number one way, and our fans have a tremendous impact on that. So the fact they did what they did at the Oregon game and how they were down there at the Stampede and how they  are down there on Pearl Street after the game goes a long ways."
Things became tougher on the field with a series of injuries that kept players like quarterback Tyler Hansen, wide receiver Paul Richardson, leading rusher Rodney Stewart, free safety Ray Polk, senior cornerback Travis Sandersfeld and others out of action.
Colorado had 14 confirmed oral commitments in mid-October for the 2012 recruiting class and is expecting to sign a full class of 25.
---
Missed some of the season?
Basketball player Julie Seabrook and golfer Emily Talley competed in the World University Games in China. Talley finished 16th, while Seabrook's Canadian team placed sixth.
Men's basketball coach Tad Boyle and several assistants participated in a September basketball coaching session organized by the Denver Nuggets and coach George Karl.
The equestrian team, led by sophomore Kaley Silipo, won its first English show of the year at its home barn, Fall River Farm, in Fort Lupton, Colo.
CU linebackers coach Brian Cabral (Rec'79), former Buff player Emery Moorehead (Comm'77) and their Chicago Bears teammates from the mid-1980s went to the White House in October to celebrate their 1986 Super Bowl win. The Bears didn't go to the White House that year because of the space shuttle Challenger explosion.
The Buffs swept the team and individual titles at the 26th annual Rocky Mountain Shootout cross country race held on CU's South Campus. Senior Richard Medina and sophomore Shalaya Kipp finished first. In his first cross country race in nearly two years, Medina posted the fourth-fastest time in course history.