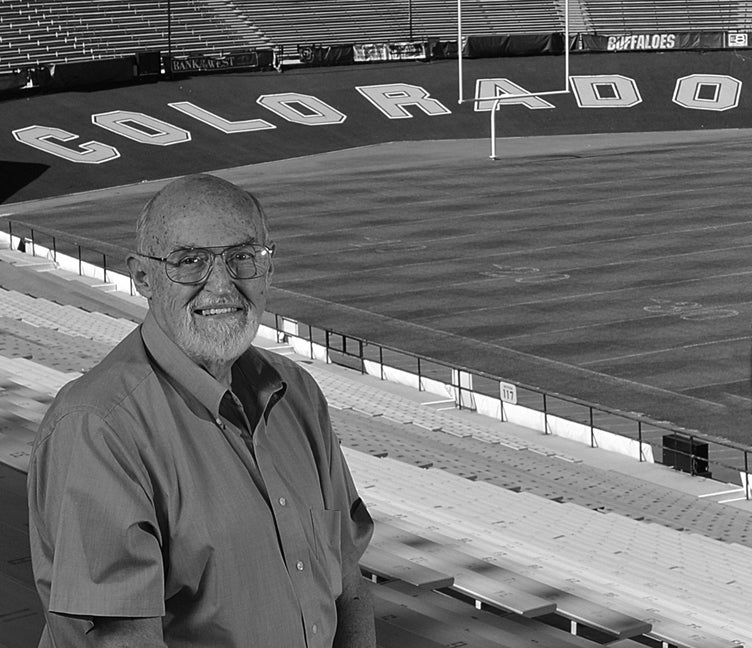 Fourth-generation CU alum Alan Cass (A&S ex'63, HonDocHum'99) grew up on campus playing in the ditches and fishing for crawdads in Varsity Lake with strung bacon.
But for the past 50 years, he has been known as the CU voice of "Here Comes Ralphie" and "Welcome to 5,345 feet of Rocky Mountain Altitude." Alan has announced more than 2,000 CU sporting events from track to baseball, football and basketball. For 20 years, he also announced the Denver Broncos games at Mile High Stadium.
"The adrenaline always started to flow and I wanted to be there," he says.
Last spring Alan finally switched off his microphone to retire.
During his tenure, Alan gained assistance from CU's language department in correctly pronouncing athletes' names. Many fans echo his enunciation of names such as Jaaay Jaaay Billingsley and "in . . . com . . . plete," his creation when a Broncos' opponent failed to catch a pass.
But Alan also spent a lot of his career as curator of CU-Boulder's Glenn Miller Archive at the American Music Research Center, building and maintaining the significant repository of big band musician Glenn Miller (A&S ex'26, HonDocHum'84) memorabilia.
He credits CU-Boulder Alumni Association associate director Margaret "Peggy" Tague Earnest for suggesting he place a request in the Colorado Alumnus, known today as the Coloradan, for support and additional items. From then on, "bits and pieces kept coming in. It's never stopped. Its scope is impossible to put your arms around," he says.
As the archive's curator, Alan reviews and accepts new memorabilia. He also gives 25-50 Glenn Miller presentations yearly. Last February the university acquired the Ed Burke Collection as part of the Glenn Miller Archive. One of the world's most significant collections of Big Band era recordings and memorabilia, it contains 1,400 reel-to-reel tapes with live radio programs featuring virtually every musician of major importance between 1930-60, including Tommy Dorsey and Count Basie.
"It took us three years working with Ed Burke and his family to acquire his entire collection," Alan notes. "You never know how life will lead you. It's been quite a trip with wonderful people along the way."
Photo courtesy Casey A. Cass