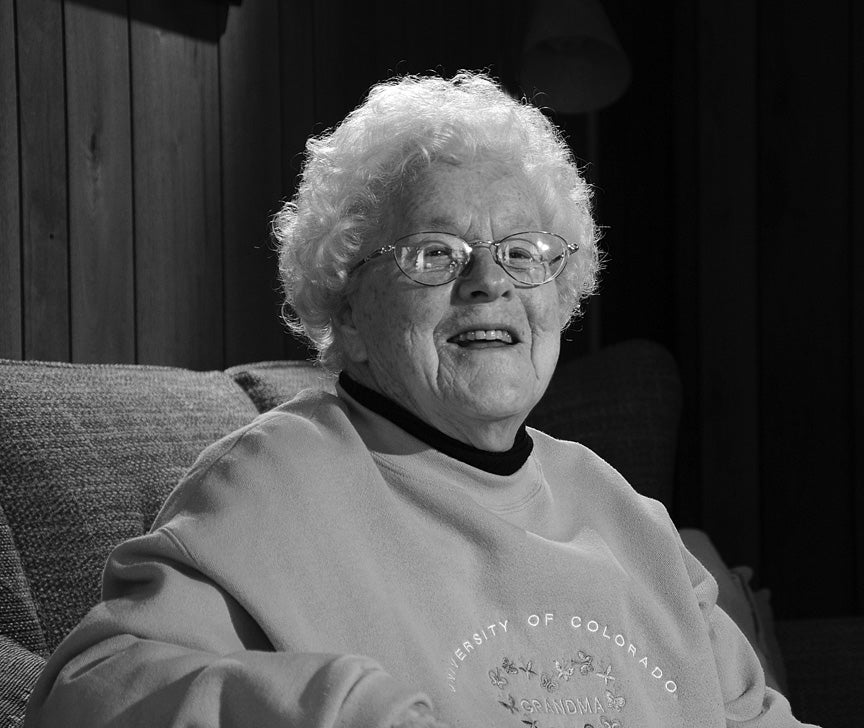 Elizabeth "Dee" Graham Demmon's (A&S, Edu'32) life has been straight out of a history book. The longtime Boulder resident, who recently celebrated her 100th birthday, attended Mapleton Elementary School as a little girl, watched the Boulder Courthouse burn down Feb. 9, 1932, and attended CU during the Great Depression. She even met Buffalo Bill Cody.
"You can't imagine the dust that his horse stirred up! But it was the thrill of my life," Dee says.
She has seen Boulder change around her, although she has lived in the same house on Ninth Street for decades. She's lively and exuberant as she eagerly shows visitors her walls, which are covered in photographs documenting her incredible life. A photo of Dee and her late husband Irvin Demmon (A&S '34) at the Great Wall of China hangs on one wall. In another frame, there is a photo of her son, Bob Demmon (Mus'62), who was the leader of the legendary 1960s Boulder band, The Astronauts.
Dee was born on Feb. 11, 1910, and has lived in Boulder for nearly all of her life. When she attended CU-Boulder, the country was in the midst of the Great Depression.
"CU back then was like it is today but much smaller," she says. "I lived at home to save money."
Dee's other son, Bill Demmon (A&S'71), elaborates proudly on his mother's achievement.
"In those days, it was rare for a woman to earn a college degree, especially in the Great Depression," he says.
On campus, she stayed involved through her activities as a Pi Beta Phi sister.
After graduating from CU, Dee spent part of her life working first as a teacher in Boulder, Delta and Magnolia and later in administration with the Boulder Valley School District. As an educator, she worked with many children at University Hill Elementary School who later became Boulder professionals. She also kept busy raising her two sons.
Decades later, she has had Buff football season tickets for more than 50 years and in 2007 attended a special ceremony for longtime season ticket holders.
"When my mom can't make it to the games, she rewards sons, grandchildren and neighbors with the tickets," Bill says.
These days, Dee enjoys being driven around the Hill and north Boulder, pointing out houses and commenting on who used to live in them. She has had a rich and rewarding life, surrounded by supportive and friendly family and friends. She has been an inspiration to many Boulder residents and is a force that will never be forgotten.