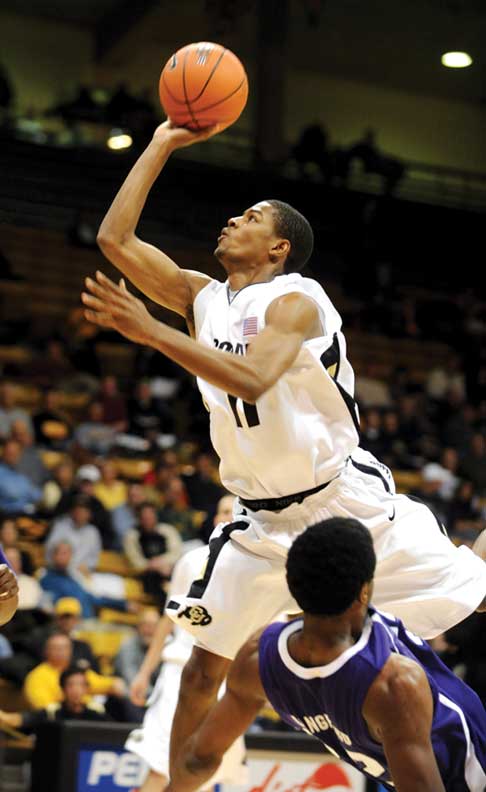 The men's basketball team finished with the most losses in a season (22) in program history, which dates back to 1901, and with its second-worst in-conference winning percentage ever. The Buffs went 1-15 against Big 12 opponents in the regular season, placing last in the league.
The Buffs notched a 9-22 record overall — an unprecedented third straight 20-loss season. But since coach Jeffrey Bzdelik's arrival two years ago, the Buffs have lost 20 of 42 games by only single digits. With the  2008-09 team comprised of one senior and one junior, the offensive firepower for the future provided 72.3 percent of the team scoring, making it the highest of any Buffs team since the Big 12 began play in 1996-97.
Sophomore guard Cory Higgins (pictured) earned third-team All-Big 12 status and also was named to an all-district team by the U.S. Basketball Writers Association. He led the Buffs in scoring (17.4 average), rebounding (5.4) and steals (1.9).
As for the women's basketball team, it finished last in the Big 12 Conference and suffered through a losing season for the third time in Kathy McConnell-Miller's four seasons as CU's coach. The 2008-09 Buffs posted an 11-18 record, including 3-13 in the Big 12, losing their last six games.
Playing without point guard Whitney Houston for the entire season due to a knee injury, the Buffs didn't come close to duplicating the success of the 2007-08 season in which they advanced to the WNIT semifinals.
Sophomore Brittany Spears earned second-team All-Big 12 honors after averaging 18.3 points and 7.8 rebounds per game for the season. Spears became the second Buff to score at least 1,000 points by the end of her sophomore season, joining Lisa Van Goor (EPOBio'86).