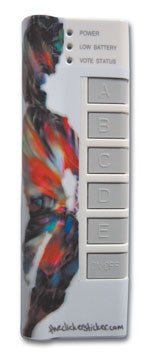 From iPods and Crocs to coffee mugs, it seems everything's about customizing to your own taste, and junior Jesse Saba has brought this trend to CU classrooms.
The journalism major was sitting in a lecture hall one day when she noticed 250 identical, plain-white clickers sitting side-by-side on desks.
Six months later she developed the Clicker Sticker, a decorative decal designed to help students distinguish their clicker from those of their classmates. The stickers sell for $4.99.
Clickers are simple audience response devices, similar to a television remote control, that allow students to answer professors' questions electronically during lectures and quizzes. Instructors across the campus, and nation, use clickers to gauge how well students are grasping their course material.
They may be key to student achievement, as well. Peer discussions during clicker question assignments help students learn in a way that simple lecturing does not, according to a CU study published in the Jan. 2 issue of the journal Science.
"I was skeptical about whether in-class discussion really led to students' learning," says Tin Tin Su, an associate professor of molecular, cellular and developmental biology. "The clickers are a good way to get instant feedback, but do the students really learn from discussion or are they just changing their answers because of peer pressure?"
To answer his question, Su and his team used pairs of similar clicker questions in lectures during the semester and evaluated student responses. Each time, the students answered the first question of the pair individually and then talked to their neighbors about their answers.
Then they were asked to answer a second, similar question individually. About 50 percent answered correctly on the first try. After talking to neighbors, the number jumped to 68 percent. And when they individually answered a follow-up question about the same concept, the number climbed to over 70 percent — a substantial improvement over the 50 percent of students who answered correctly on the first try.