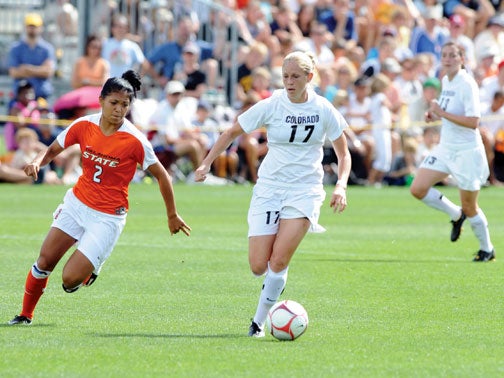 Junior soccer player Nikki Marshall helped the U.S. win the women's under-20 World Cup title in December. The Americans defeated defending champion North Korea 2-1 in the final in Santiago, Chile. With Marshall playing every minute on defense — she's normally a forward for the Buffs — the U.S. gave up a tournament-low three goals during the six games.
"Standing up on the podium after the game was surreal, a feeling I have never felt before," Marshall wrote on a cubuffs.com blog. "Surprisingly (ha ha) I could not control my emotion and I had tears of joy in my eyes. We sacrificed so much to be here and it all became worth it when that gold medal was placed around us."
Minus Marshall, the Buffs were ousted in the first round of the NCAA tournament, ending their season with a
1-0 loss to South Dakota State.
"It's just a difficult loss to swallow with everything we have done leading up to this point," coach Bill Hempen says.
The Buffs, who earned an NCAA berth for the sixth straight year, finished with a 14-5-4 record, winning 14 games for just the third time in program history.
CU senior Michelle Wenino was named Big 12 Co-Defensive Player of the Year and to the all-conference first team for the second straight year. Marshall, the all-time scoring leader for CU, joined Wenino on the first team, earning the honor for the third consecutive year.