By Hannah Stewart (Comm'19)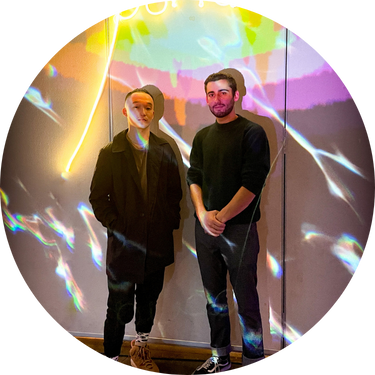 Artist Bryan "Noodle" Chi Hun Lai (CritMedia'22) with Zach Marks,
a fellow classmate and media production student.
In a room filled with waves projected onto walls, recordings of rippling water joined images of colorful goldfish swimming across a screen to produce the illusion of being in the middle of a goldfish pond.
Bryan "Noodle" Chi Hun Lai (CritMedia'22) created the augmented reality exhibition ponder. to meld physical space with the sights and sounds of a virtual world. At two spring 2022 Department of Critical Media Practices student showcases, attendees eagerly awaited their turn to grab an iPad and headphones and plunge into the interactive experience. 
Chi Hun, a sonic artist with a background in music production, developed a project that fused his cultural roots and creative exploration.
"With ponder. I had hoped to set an example of what it meant to embrace the dichotomy of the influences in my creativity and the influences of my heritage," said Chi Hun, who is from Hong Kong and also graduated with a certificate in music technology from the College of Music.
Koi and goldfish often represent prosperity and luck in Chinese culture. With that symbolism in mind, Chi Hun set out to create a meditative, extended reality experience that incorporated his interest in ambient music.
At the showcases, students, faculty and other attendees held an iPad in front of them to see goldfish swimming around them through an augmented reality program. At the same time, they wore headphones that revealed a new layer of ponder.: an interactive, jazz- and trap-inspired audio experience.
Chi Hun divided the soundtrack into groups of frequencies, then he assigned each frequency to a different fish. As participants moved toward a given fish, the sound associated with it would become louder. If participants decided to feed the fish, an element of the program designed by Chi Hun, they would be surrounded by the full range of sound in the soundtrack.
Chi Hun said the Advanced Augmented Reality course taught by Jason Gnerre helped him craft and hone the final version of ponder.
"Ponder. is a fantastic example of augmented reality because it leans into all the unique aspects of this technology," said Gnerre, senior media specialist in CMCI and instructor for the course. "This new way of experiencing digital art creates a very personalized experience, where the meaning changes depending on your vantage point and surroundings."
Through ponder., Chi Hun hoped to challenge himself and attendees to immerse themselves in a creative, virtual experience. He said he hoped that by being able to walk around in a goldfish pond, viewers would be inspired to be creative themselves.
"All art stems from some sort of inspiration," he said. "I'm hoping, as I find my own path . . . that it develops the same sort of desire in other people."