CMCI encourages students to pursue personal and professional passions while completing their studies. 
This gallery highlights projects where students have explored subjects of personal interest and expanded their technical skills. We've collected work from undergraduate and graduate students, spanning three of the six major disciplines within the college.
Naim Aburaddi
Naim Aburaddi is a first-year doctoral student from the media studies department working on an extended reality project focusing on the Gaza Strip. This spring, he hosted a demonstration where attendees were able to see daily activities and popular places in Gaza through the lens of virtual reality goggles.
The Phoenix of Gaza XR project uses 360-degree technology and Mozilla Hubs to immerse users into a multidimensional, interactive experience. Through extended reality, participants—represented by a digital avatar like a rabbit or panda—can move throughout the environment and engage with others. Aburaddi and his team hope that through the experience, users develop a sense of daily life in Gaza, despite the adversity many experience; the project makes it possible to visit Gaza via VR while it's still difficult to visit in person.
Annilise Burgess
Annilise Burgess is a sophomore from the journalism department whose work was featured in the spring CMCI Student Showcase.
In June of 2020, she attended a Black Lives Matter protest and was inspired to document the event. The resulting photos were featured in the Lova Canna Company's 2022 Black History Month art exhibition under the title I Will Never Understand So I Stand.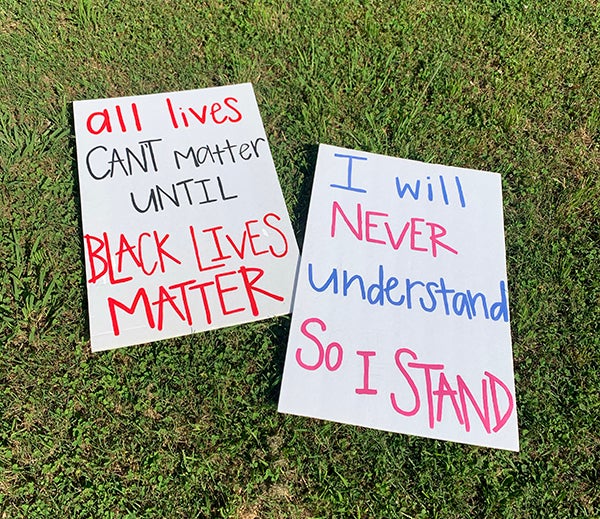 Nandi Pointer
Nandi Pointer is a second year doctoral student from the media studies department exploring the experiences and identity reformation of Black expats through documentary film. Inspired by her own time teaching English as a second language, she wanted to explore how some of the expats she met challenged expectations of what it means to live as a modern Black American man. 
In her documentary Black Expats, which is in progress as part of her PhD work, she will interview five Black men who formerly taught in Vietnam, South Korea and Saudi Arabia. She argues that, in many ways, Black identity is incomplete within the "construct of American society," but beyond the cultural and physical confines of the United States one is able to (re)form one's identity and redefine Blackness. It is through the interviews with these expats, in concert with an analysis of media representations, that Pointer hopes to challenge stereotypes and help construct a new narrative surrounding identity.
Curtis Wagner
Curtis Wagner is a senior in media production whose work was featured in the spring CMCI Student Showcase. He and a team of five other creators—Ben Berman (Jour'22), Lily Fletcher (journalism junior), Caleb McKernan (media production junior), Oliver Pollock (strategic communication junior) and Meggy Wiley (strategic communication senior)—built an interactive timeline exploring Denver's history. This project was a collaborative assignment as part of the Creative Media Making class through the Department of Critical Media Practices.
In addition to the slides that explore Denver history from the prehistoric era to today, the team created curriculum goals and compiled resources for educators to "provide a comprehensive list of resources and information about Colorado history." Resources include the Colorado Women's Hall of Fame, Colorado Hispanic/Latino Historical Overview, LGBTQ Colorado and more.