By Lisa Marshall (Jour, PolSci'94)
Illustrations by Dana Heimes and Cary Marks
In summer 2021, Phaedra C. Pezzullo was—like many—facing catastrophe on top of catastrophe.
The pandemic was entering its second year. Wildfires fueled by climate change choked the air and forced her to evacuate her home. Her friends and family remained traumatized by a mass shooting at her neighborhood King Soopers. And on top of it all, she was caring for her dying mother.
Why, at a time like this, would anyone worry about something so seemingly trivial as a plastic shopping bag? The thought crossed her mind.
"Avoiding plastics felt like a bourgeois privilege—not a movement," recalled Pezzullo, an associate professor of communication who has written about pollution and environmental racism for decades.
She dutifully carried a stainless steel water bottle and straw and recycled, but she had always thought of plastics as a "lightweight" environmental concern, somehow less worthy of prioritizing than air pollution, toxic chemicals and, of course, climate change.
But after attending a virtual "toxic tour" exploring the negative impacts of plastic manufacturing and waste on communities in the Gulf Coast, Vietnam and Taiwan, she began to see plastic differently: as an existential global threat, a chilling example of environmental injustice and a killer of people.
"At every stage of the plastic life cycle, it harms," Pezzullo said, noting that its production emits greenhouse gases, its waste clogs drainage systems to make floodwaters more deadly, and as it disintegrates it gets into our bodies, fueling disease.
She dives into these impacts in her new podcast, Communicating Care, and forthcoming University of California Press book, Beyond Strawmen: Plastic Pollution, Impure Politics and Networked Cultures of Care, due out in 2023. Through more than a year's worth of deep research and interviews, the works illuminate a broken plastics infrastructure and the global effort to fix it, led largely by marginalized communities around the world.
"We often talk about plastics as a marine-life issue, which is important, but they are more than that," she said. "They are a human rights story, a racial justice story, a climate change story and a public health story."
Seeking justice through communication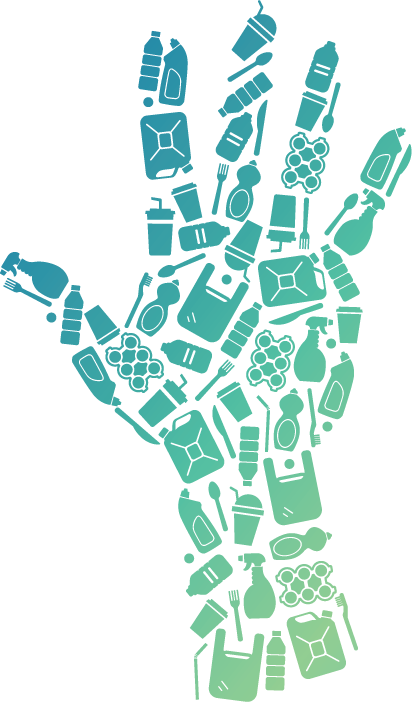 Pezzullo grew up outside Philadelphia, where, as she puts it, she could smell the local refuse site before she could see it.
"I knew from a very early age that I cared about the environment," she said. "I believed that clean air and water were basic human rights, and, naively, I couldn't understand why everyone didn't see it that way."
Pezzullo initially wanted to be a scientist and pursued a bachelor's degree in natural resource sciences. But she quickly learned that while scientists knew what was wrong, they often had a hard time convincing people to do anything about it.
She went on to study natural resources, social theory and political economy, earning two bachelor's degrees before obtaining a doctorate in communication studies from the University of North Carolina at Chapel Hill.
In 2015, she joined the College of Media, Communication and Information as an associate professor, pursuing research that focuses on people who mobilize to resist pollutants and are impacted the most by the climate emergency.
Whose voices are heard? Whose are ignored? And how do those facing a disproportionate burden from toxins make change?
Pezzullo is quick to note that politically, culturally and/or economically marginalized communities around the world inevitably suffer the brunt of harms from pollutants generated primarily by the wealthy and white. One Environmental Protection Agency report recently found that poor people and people of color in the United States are exposed to as much as 1.5 times more airborne pollutants than their white counterparts, and they're more likely to live within 2.5 miles of refineries, including those associated with plastic production.
"I'm always moved by environmental justice activists, because they continue, generation after generation, to face massive odds without giving up," she said. "Often, giving up is a privilege they do not have."
Drowning in plastic
Early in her career, Pezzullo's work led her to Warren County, North Carolina—broadly considered the birthplace of the environmental justice movement in the U.S.—to work alongside local activists to lobby the state to clean up an infamous landfill plaguing their mostly Black community.
Later, she traveled to Louisiana's "Cancer Alley" and the rural towns at the Texas-Mexico border to document bold community responses to toxic assaults.
While digging into the plastics issue through social media, or "hashtag," activism, she found herself studying some of the same communities.
"I realized that these communities I long had been working with were not only facing disproportionate impacts from petrochemicals, but also from the plastics industry," she said.
Just the sheer amount being produced around the globe today is, as Pezzullo puts it, "jaw-dropping."
In 1964, according to the World Economic Forum, 15 million tons of plastic were produced annually worldwide. By 2014, that number had risen to 311 million tons (the equivalent of about 900 Empire State Buildings) with only about 9% ever recycled. Production is expected to double in 20 years, particularly as renewable energy increases and fossil fuel companies seek alternative uses for petroleum, from which plastic is made.
If trends continue, the ocean will contain more plastics than fish, by weight, by 2050, Pezzullo said. Already, some communities are literally drowning in plastic.
In one instance, drains clogged by plastic bags near the capital city of Accra, Ghana, overflowed and caused a massive flood that killed 150 people. Similar incidents occurred in Bangladesh, prompting the country to, in 2002, become the first in the world to ban single-use plastic.
"Nothing is bigger than plastic," said Sharir Hossain, a Bangladesh-born reporter-turned-activist, during an episode of Pezzullo's podcast. He helped craft the world's first single-use plastic ban. "It's in our water, our air, our soil and our food chain."
The changemakers
For her research, Pezzullo has interviewed "hashtag" activists from the Gulf Coast, Kenya, Vietnam and other countries who have used social media and other means to elevate the issue of plastic pollution in public debates and policy.
"The podcast is like a master class on how to create social change," she said.
And change is slowly coming.
About 90 countries have bans and restrictions on single-use plastic bags. And in March, representatives from 175 nations endorsed a United Nations resolution to forge an international treaty by 2024 that would address plastic pollution from manufacturing to disposal.
Meanwhile, Pezzullo said she has observed a growing culture of shaming around the world concerning anti-plastic efforts on- and offline. She doesn't believe that's the way to address the plastics crisis.
"Avoiding plastics often is only viable for able-bodied people who do not need IV tubes, for example," she said. "So, we cannot transform plastics through individual actions only—we need systemic change that stops subsidizing fossil fuels and reduces the production of plastics."
When she was caring for her dying mother, she acknowledged she didn't seek out cloth diapers or prescription drugs that weren't in plastic bottles. She wears contact lenses made of plastic and used a plastic keyboard to write her book.
"I use plastic every day. We all do," she said. "But what we as a nation—and globally—need to grapple with is: When is it helpful and necessary, and when can we live without it? If we can start thinking about that we can make some real progress."